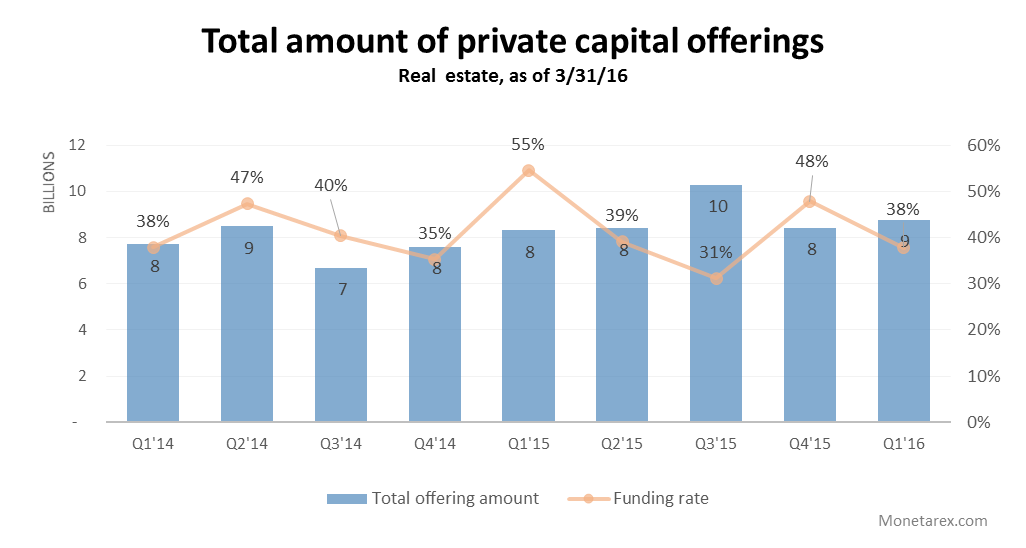 Private Capital activity Q1 2016: no signs of slowdown
Monetarex has aggregated and reviewed the data in 954 Form D filings submitted to the SEC for the real estate industry group as of March 31, 2016, of which 423 (or 44% of total offerings) are currently active. Total offering amount stands at approximately $8.8 billion as of March 31, 2016, with the Total recorded capital commitments of $3.3 billion (or a 38% capital commitments rate). The capital commitment rate in Q1'16 is below the historic average which has been around 50% (a decrease from 48% in Q4'15). The total number of active Real Estate Private Placement filings experienced an increase of about 13%, from 842 to 954. Average minimum investment for the quarter decreased almost twice from approximately $155 thousand to $72 thousand.
We analyzed the number of non-accredited investors reported and accepted into deals (8% of all deals had non-accredited investors) suspecting that increase in crowdfunding (506(c) offerings) might be the reason but did not see any correlation. The minimum investment drop this quarter could either be an outlier or an indicator that sponsors are getting less picky in their efforts to fund and close deals.
There were no red flags with respect to slowdown in the fundraising activity and no indicators yet that there are tougher times ahead of us. Among the largest offerings this quarter: MHC America, LLC with a $200 million raise (mobile home parks) and Fireside Financial with a $500 million fund (multifamily and self-storage investments).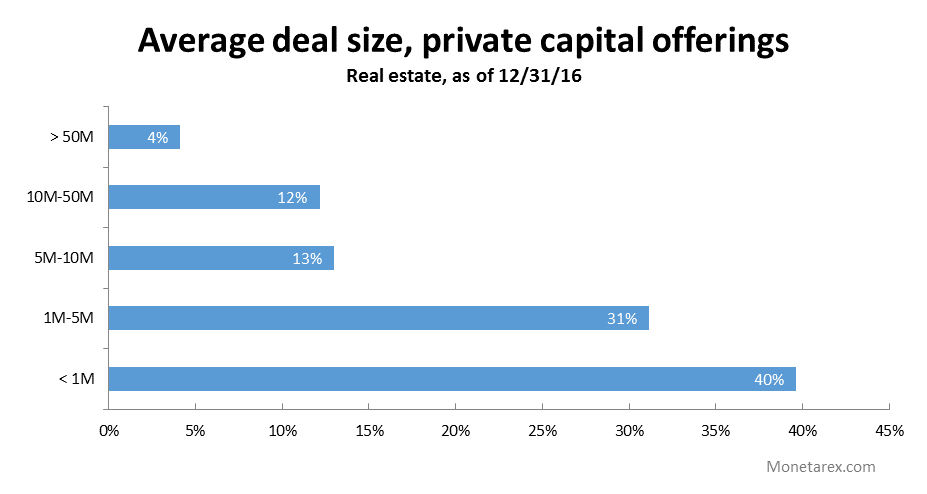 In Q1'16 the average size of the private capital deal was $9.2 million, roughly in line with a $10 million average deal size reported last quarter.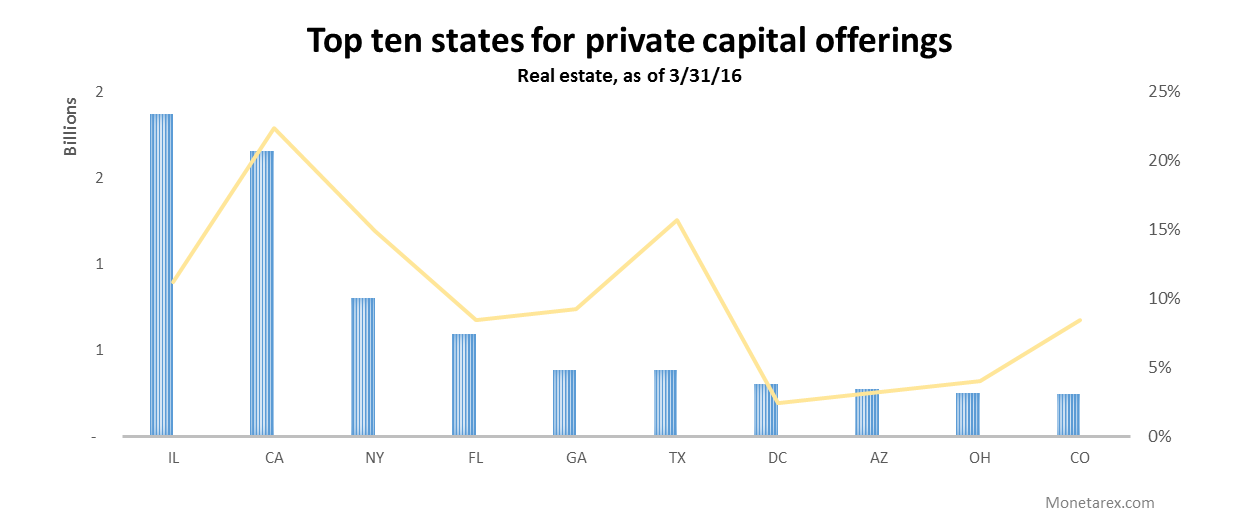 The geographic distribution of recorded capital commitments has changed from the previous quarter with the top three states – our usual suspects Illinois, California, and New York – accounting for almost half (!) of all private capital activity. In Q1'16 Illinois outpaced the other states in terms of private real estate offerings with $1.8 billion in offerings spread across 69.  California has been the most active state for the private capital this quarter by the amount of deals. Overall, the top ten states in the country accounted for almost 65% of all private capital offerings. Interestingly, Texas has seen more activity than the winner Illinois (97 deals vs. 69 deals) but those deals were a lot smaller.
Looking for resources to help you fund middle-market commercial real estate deals? Sign up to access profiles on over 2,000 private real estate investors and their investment activity.