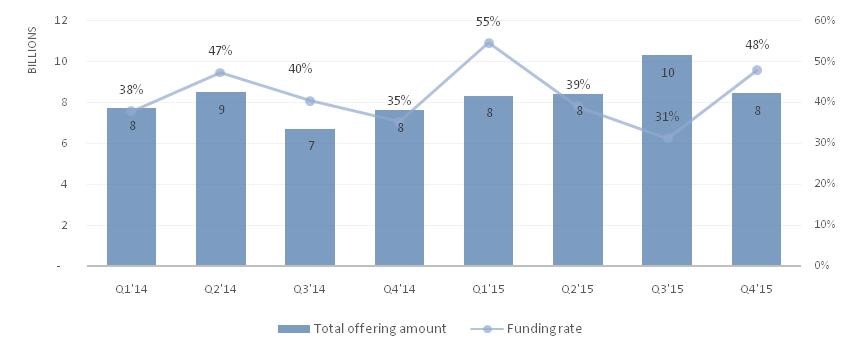 Private capital in 2015 is at its most active in this cycle
Monetarex has aggregated and reviewed the data in 842 Form D filings submitted to the SEC for the real estate industry group as of December 31, 2015, of which 436 are currently active. Total offering amount stands at approximately $8.4 billion as of December 31, 2015, with the Total recorded capital commitments of $4 billion (or a 47% capital commitments rate). The capital commitment rate in Q4'15 is close to the historic average which has been around 50%. The total number of active Real Estate Private Placement filings experienced a huge jump across all sectors increased by about 26%, from 668 to 842 which could be explained by the firms pushing to close deals before the year-end. Average minimum investment for the quarter stands at approximately $155 thousand.
Private capital has been a lot more active in 2015 compared to 2014. Total offering amount in 2014 was $30.3 billion vs. $35.4 billion in 2015. That is a 16% year over year increase. To compare, the private capital activity in 2014 vs. 2013 increased only by 4%.  At the same time the number of private offerings increased 13% year over year, leaving the per deal size roughly in line with 2014 results.
The average deal size in 2014 was $11.9 million compared to $12.1 million in 2015, a 1% decrease. Despite the very sluggish fundraising environment for the past two quarters of 2015 the funding rate for the entire year is now at 43% compared to 40% in 2014 mainly because of the robust Q4'15 results.

In Q4'15 the average size of the private capital deal was $10 million, an decrease from $15 million in the previous quarter. The change is primarily due to the fact that the dealflow in the below $5 million range accounts for almost 70% of the market activity.

The geographic distribution of recorded capital commitments has changed from the previous quarter with the state of California leading the way. California has been the most active state for the private capital this year both by the amount of deals and by the total offerings amount. In Q4'2015 California outpaced the other states in terms of private real estate offerings with $1.2 billion in offerings spread across 116 deals (20% of total market activity).  Overall, the top ten states in the country accounted for almost 80% of all private capital offerings.
Looking for resources to help you fund middle-market commercial real estate deals? Sign up to access profiles on over 2,000 private real estate investors and their investment activity.