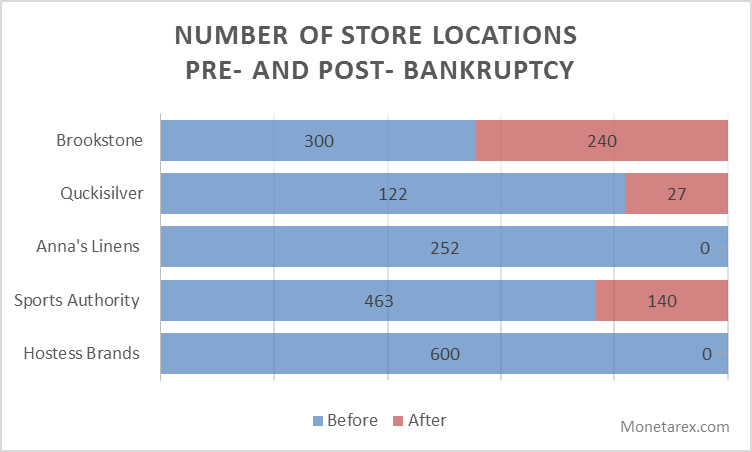 Is brick-and-mortar retail dead?
Hostess Brands is back… with no retail locations
Deep fried fair lovers, nostalgics, and kids rejoice: not long ago Hostess Brands announced it will soon be going public. This news comes three years after Apollo Global Management and C. Dean Metropoulos bought Hostess out of bankruptcy. Apollo and Metropoulos are expected to keep 42% of the company after the deal. The Twinkie and Ho Hos maker is currently valued at $2.3 billion.
Hostess Brands used to own and operate 600 thrift stores, all of which it liquidated during its 2012 declaration of bankruptcy. Now focusing on convenience store and retail distribution, it has completely abandoned its brick-and-mortar approach, with Big Lots being the biggest retailer of the sweet snacks.
All of this ties into the loss of popularity of brick-and- mortar stores (unless it is the 53,000 sq ft FAO Schwarz flagship store we are talking about with its new tenant Under Armor). With ecommerce terrorizing sales at physical locations, it's no wonder there's a shrinkage of store locations nationwide. The number of store locations pre- and post- bankruptcy of various brands can be seen on the graph above. The biggest loser? RadioShack, with over 4,000 stores being shut down. If only their customers were as nostalgic as Hostess'.
In conclusion? Retail property investors beware. The National Retail Federation forecasts that US online retail sales will grow 10% with traditional retail sales growth of only 3.4%.
Private retail sponsors are halting their acquisition efforts and focus on harvesting value from the existing property portfolio instead.
Retail private funds stay consistent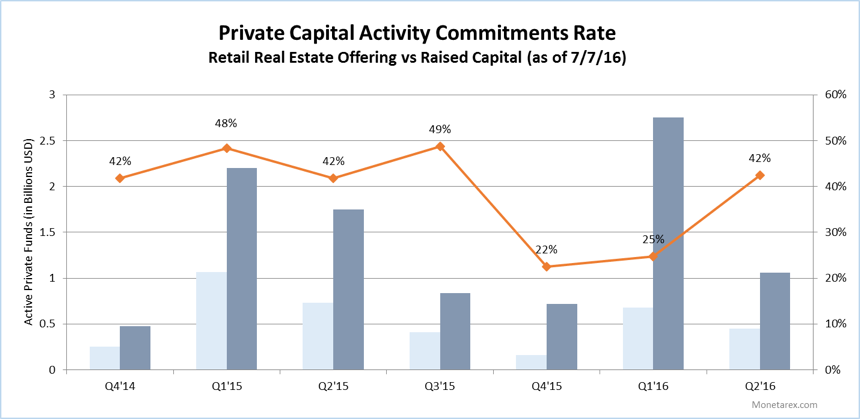 Our trend analysis of private real estate funds investing in retail point to steadily slowing activity in the performance of real estate private capital. For retail real estate offerings total offering amount stands at approximately $1 billion as of July 7, 2016 across 138 real estate private placements. Total deals filed and $ capital advertised for all retail real estate private placements offer a gauge of the industry's investment health.
However, the average capital commitments rate has stayed at the healthy 36% level for the past five quarters. Total offerings have been on a downward spiral every quarter since Q1'15 with the exception of Q1'16. Several retail sponsors have halted their acquisition efforts and focus on harvesting value from the existing portfolio instead.
Among the largest transactions of 2016 are Radiant Mall PJV LLC, a $120 million investment vehicle sponsored by Radiant Partners, a sponsor that holds a portfolio of retail and parking facilities and structures joint ventures in the retail space.
California-based U.S. Realty Partners Inc. has been active in 2016 with middle market acquisitions: a $4,7 million offering was launched in connection with the Lahaina Cannery Mall in West Maui; a $4,2 million fund was offered to investors in a joint-venture with Compass Acquisition Partners.
We are applying machine learning to help you build investor prospect lists and scale your fundraising activity.
Sign up for a free trial to set your real-time alerts and to access the in-depth profiles of private companies and their investment activity.