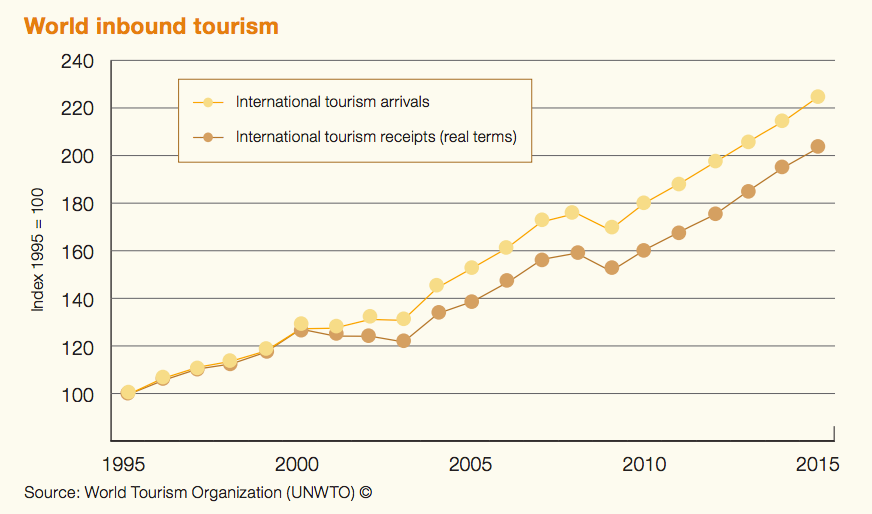 Time To Use Those Vacation Days?
The U.S. dollar's strength has seen a 14-year high last year, the price of flight tickets have been steadily dropping, and you keep getting notifications about your co-worker's vacation album. It's not a coincidence— traveling has never been better (or cheaper). But it's not just Americans who are taking advantage; worldwide, tourism is expected to increase by 3.3% a year between 2010 and 2030.
A couple other factors that helped influence travel trends include strong exchange rate fluctuations and a decline in price of oil and other commodities. The top destinations for 2015 were France, the United States, Spain, and China. These forces can contribute to the Hospitality Industry's increase in revenue from 2009-2015.
Below are some key updates on the hospitality industry:
FelCor Lodging Trust, the Texas-based real estate investment trust that owns New York's Knickerbocker and Royalton Hotels, is in talks with possible buyers. The trust, which has 36 high-end hotels, is valued at approximately $1 billion. In 2011, FelCor acquired midtown Manhattan hotels, The Royalton and Morgans, for $140 million in cash. Later that year, it also took a 95 percent stake in the top 14 floors of The Knickerbocker hotel for $109 million, pumping $240 million into it to later reopen in 2015.
Irving-based La Quinta is considering the possibility of splitting into two separate publicly-traded companies. The news comes after CEO Keith Cline stated the move would "enable shareholders to own and value each business independently, allowing each company to attract the investor base most appropriate for its distinct investment profile." While the split is not final, J.P. Morgan has been set as the company's financial advisor with Simpson Thacher & Bartlett as its legal advisor on the situation.
Pebblebrook Hotel Trust and Denihan Hospitality Group recently broke up their portfolio, which consisted of six Manhattan hotels. The estimated value was set at $820 million. Manhattan NYC hotel and Dumont NYC will go to Besthesda, MD-based Pebbloebrook, with Midtown-based Denihan receiving Benjamin, Fifty NYC, Shelburne NYC and Gardens NYC.
Blackstone Group LP has been in the news following its decision not to sell the Hotel del Coronado near San Diego to Chinese firm Anbang Insurance Group Co.. The move comes following opposition from U.S. national-security officials, as the Hotel del Coronado is in close proximity to Naval Base Coronado. Blackstone did, however, sell a 25% stake in Holton to Chinese HNA Group for $6.5 billion; the aviation and shipping firm projected that its spending would reach $72 billion in 2016.
Below is the list of active hotel deals and investors from CapitalBrain databank:
Investing in select markets across the nation with high barriers to entry, RD Olson thanks its success to its founder Bob Olson. Started in 1997, the company has developed over one billion in  hotel assets, and aims to "create value" with its strong team of experienced executives. Completed projects by RD Olson include hotels in Hawaii and California.
Based in New England and Florida, Norwich Partners deals primarily with hotels in Northeastern U.S. and Florida. Since 2003, the company has been dedicated to philanthropic causes, making grants to local non-profits and dedicating time to volunteer in its community. Norwich Partners received the Hanover Chamber of Commerce Business of the Year award in 2014. Hotels include Courtyard and Residence Inn by Marriott, and Homewood Suites by Hilton.
Founded in 1971, Quadrangle Development has completed 63 projects to date with another 25 in pipeline. With a total of 25 million square feet, the Washington DC-based firm looks to develop, acquire, and operate properties in Washington, Maryland, and Virginia. Quadrangle has an aggregate capitalization of $2.2 billion.
| Sponsor | Offering | Deal Size |
| --- | --- | --- |
| Quadrangle Development Corporation | Square 369 Hotel, LLC | REIT |
| Norwich Partners | Norwich Partners Fund XV LLC | $65,000,000 |
| R.D. Olson Development | SC Landmark Hotels LLC | $28,000,000 |
|  Crawford Hoying | Bridge Park Hotel, LLC | $7,000,000 |
| American Strategic Investments | Grapeland Hospitality Investors, LLC | $8,500,000 |
| Algodon Wines & Luxury | Algodon Wines & Luxury Development Group, Inc. | $10,000,000 |
| National Hospitality Services, LLC  | Lodging Opportunity Fund Real Estate Investment Trust | $15,000,000 |
| Concord Hospitality Enterprises | Oakland Fifth Avenue Hotel Associates LP | $19,000,000 |
| Pacific Hospitality Group  | PHG Hotel Fund I, LLC | $125,000,000 |
Need to look up more hotel buyers or investors? Start here.