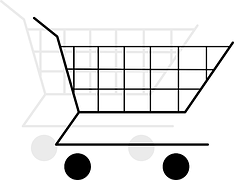 Black Friday, Cyber Monday, and Retail Funds Are As Active As Ever
Another Thanksgiving has come and gone, and through the wasteland of discarded wishbones and mashed potato leftovers, the numbers begin to emerge. This year, it's estimated that 46 million turkeys were eaten, with the average American consuming 4,500 calories during the nation's grandest meal. 47 million people traveled by all means of transportation to give thanks, and 50 million watched the Macy's Thanksgiving Day Parade. No official word yet on how many millions of listens Mariah Carey's All I Want For Christmas Is You will receive in the following weeks.
But who could forget the post-Thanksgiving consumerism on Black Friday and Cyber Monday? This year, sales online for Cyber Monday totaled $3.45 Billion, breaking previous records. Last year, there were more shoppers online than in physical stores throughout the weekend. While holiday sales are projected to grow by 17.2% for e-commerce in 2016, total retail looks to grow 3.3%, a promising sign for retail real estate investors.
Online and physical holiday sales finished strong in November, as did private retail real estate. As of November 28th, retail real estate offerings closed out at approximately $9 billion year-to-date; this was across 723 private real estate offerings, with the average deal clocking in around $12 million.
Below are three strong, active acquirers that raised funds and/or pursued retail acquisitions as part of their investment strategy:
North American Development Group, $50 million
Founded in 1977, North American Development Group has worked in both the U.S. and Canada to acquire, develop, and manage over 200 shopping centers composed of 30 million square feet in GLA. The enterprise value of this was pinpointed at over $3.5 billion. Currently owning 20 million square feet of shopping center gross leasable area that's either in development or pre-development stages, the company also has 1,600 acres of North American land under its control for future retail development. In the last 6 years, NADG has acquired or developed 45 retail properties with 6 million square feet of retail space.
With 5 offices in the U.S. and 5 in Canada, NADG employees 150 professionals. Head offices are in West Palm Beach in Florida, and Toronto, Canada, with other offices based in Phoenix, Dallas, Nashville, Atlanta, Edmonton, Montreal, Ottawa, and Halifax.
Phillips Edison & Company, $220 million
With its beginnings in the 1980's, Phillips Edison & Co. has always focused on shopping centers. The team of 270 associates has grown the company's portfolio to over 275 shopping centers spanning across 37 states. In 2010, Phillips Edison Grocery Center REIT I was launched, with the second REIT introduced in 2013 under the name Phillips Edison Grocery Center REIT II. With offices in Cincinnati, New York City, Salt Lake City, and Atlanta, the company seeks new opportunities across the U.S.
RCG Ventures LLC, $50 million
RCG Ventures acquires and develops commercial real estate in 19 states across the U.S. The privately funded company seeks to value-add shopping centers, with the possibility for long term ownership. The group's mission is "to become the prominent owner and operator of multi-tenant, value-add retail real estate in the Continental United States".
| Offering / Sponsor | Strategy | Deal Size |
| --- | --- | --- |
| Phillips Edison Grocery Center REIT III, Inc by Phillips Edison Company | grocery-anchored properties / acquisitions | $220,000,000 |
| Devonshire REIT II, Inc by Devonshire REIT | grocery-anchored & value-oriented neighborhood shopping centers / NNN / acquisitions | $140,000,000 |
| Radiant Mall PJV LLC by Radiant Partners | retail / acquisitions / JV | $120,000,000 |
|  Talia Jevan Realty Fund I, LLLP by Talia Jevan Properties | prized heritage / retail acquisitions | $100,000,000 |
| MLG Private Fund III LLC by MLG Companies | retail / acquisitions / JV / pref equity | $100,000,000 |
| National Net Lease Portfolio VII DST by The Inland Real Estate Group | retail / NNN / sale-leaseback / acquisitions | $89,358,000 |
| RCG Ventures Fund IV, LP by  RCG Ventures  | value-add anchored shopping centers / acquisitions / JV / pref equity | $50,000,000 |
| NADG NNN Property Fund LP by North American Development Group | shopping centers / acquisitions / JV | $50,00,000 |
| MHV Holdings, LLC by McWhinney | retail / acquisitions | $44,000,000 |
Need to look up more retail buyers or investors? Start here.