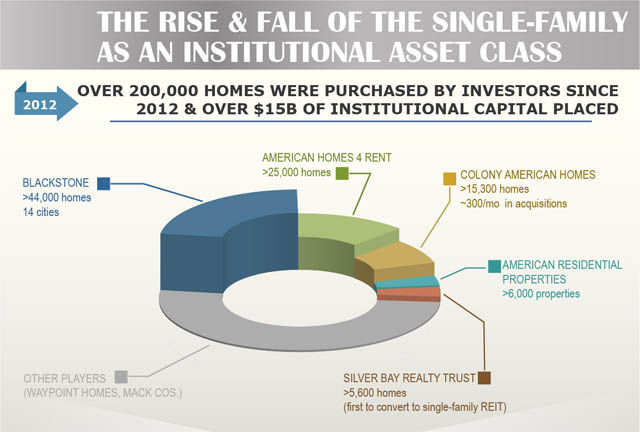 Resurgence of single-family asset class
Institutional investors continue piling into single-family rentals, an asset class seen as a safe-harbor post-pandemic,

The pandemic has sent Americans rushing to the suburbs, setting off a scramble for the suburban housing investments,

Unaffordable for-sale housing, low inventory, debt-ridden millennials forming families – some of the trends started after the financial crisis of 2008 and will most likely outlast the pandemic,

Invitation, Rockpoint Group, Nuveen, Brookfield Asset Management – all have made strategic moves in the space.
Real-estate investors are particularly flush after a banner fundraising year in 2019 and with the meager performance of other asset classes such as hotels and office, investors are turning to single-family in search for growth. 
Invitation Homes Inc., the country's largest rental-home owner, recently disclosed a joint venture with Boston property investor Rockpoint Group LLC that will result in more than $1 billion for the landlord's ongoing house hunt.
Invitation, which owns about 80,000 houses, has been buying at a clip of roughly $200 million a quarter since a pause at the onset of the coronavirus lockdown. It sold $448 million of new shares in June to fuel its expansion, and the agreement with Rockpoint will add enough cash to buy about 3,500 more homes.
It is the latest example of cash flowing from large money managers to single-family-rental companies. Financiers created the companies a decade ago to buy foreclosed homes by the thousand following the financial crisis.
The investment manager Nuveen said it would provide as much as $400 million for a rental operation buying houses in Texas, Arizona and Florida.
Earlier, the Canadian property firm Brookfield Asset Management Inc. acquired a landlord with over 10,000 houses from Ohio to Alabama and raised $300 million for it to buy more. J.P. Morgan Asset Management is building $625 million of for-lease houses with American Homes 4 Rent. Blackstone Group Inc., which launched Invitation Homes at the depths of the foreclosure crisis and cashed out last year with a multibillion-dollar profit, jumped back in this summer with a $240 million investment in Tricon.
The pandemic has sent Americans rushing to the suburbs and away from expensive coastal areas supporting rental companies strategies to invest in the suburban rental housing. American Homes 4 Rent executives say the number of Californians applying to lease the company's houses in Arizona, Nevada and Texas have been roughly twice what they were in 2019,  Migration to Florida from New York and New Jersey has been similarly strong.
Landlords have been reporting record occupancy and rising rents despite widespread job loss and economic upheaval. Big rental companies are raising rents at the fastest pace since since the last financial crisis. Investors are betting Americans will keep flocking to spacious suburban living even if they can't afford to buy.
Macro trends support the rental firms business model that has held up during the pandemic: millennials forming families and heading for the suburbs. They face rising home prices as the growth of housing prices has outpaced the wage growth and the shortage of homes available for sale. Even though builders have ramped up construction, there haven't been much addition to the low-end housing stock, as banks stopped lending to lower middle-class families after the financial crisis. Rental companies are expecting these favorable trends to outlast the pandemic. 

If you want to learn some valuable tips on using machine learning in your real estate fund operations, then join Capital Brain Newsletter