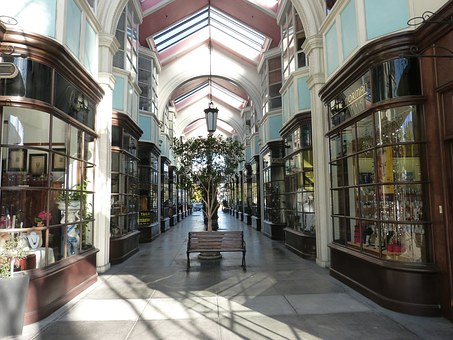 Retail real estate can't catch a break
Let's face it: Retail companies just can't seem to catch a break, whether it be malls' dwindling customer population, retail sales recording weaker than projected stats, or online websites crushing its physical location competition. So what can retail companies do in terms of choosing the best retail real estate strategy? Below are five great examples of businesses turning things around to keep their head above the retail-drowning water.
Macy's
Activist investor Starboard Value has speculated that Macy's 870 brick-and-mortar stores are worth approximately $21 billion; that's a valuation a few million greater than Macy's $18 billion enterprise value. Starboard argues that Macy's can take half of its 870 stores and form a joint venture with the likes of General Growth Properties or other mall operators, all while keeping a majority of ownership of the real-estate entity. Cash from property sales would go toward buying stock, paying down debt, and reinvesting internally. Macy's has been praised earlier this year for its Q4 performance in 2015, where sales increased by 25% over last year due to an aggressive digital marketing campaign and 17 million online orders; investors can only hope that Macy's deal with Apple can only mean higher sales this Christmas season.
Hudson's Bay
Canada's oldest running company, Hudson's Bay, has come to two different agreements totalling  $3.4 billion. Hudson's Bay has agreed to partner with Indianapolis-based Simon Property Group, Inc. and Toronto-based RioCan Real Estate Investment Trust to create two separate companies; they are valued at $1.8 billion and $1.6 billion, respectively. Both will be positioned for initial public offerings and will look for more real estate acquisitions.
"This is the optimal structure for our shareholders," Chairman Richard Baker said in a statement, noting Hudson's Bay's choice to create separate entities to take public rather than using its own REIT's. "If we had done [the other option] we wouldn't have created as much value as we will when we have a more mature, diversified portfolio." Hudson's Bay will also receive $600 million in cash from third-party debt from the venture, which will be put toward Hudson's Bay's own indebtedness.
The Sears Holdings Corporation ("SHC")
Sears has been under fire recently due to its use (or rather, disuse) of its Sears and K-Mart store space nationwide. While it may be true that the once-thriving retailer has way too much space on its hands, at least they're putting it to good use: the company has finally turned a profit for the first time in years, through selling several hundred million dollars worth of stores.
As it leases all of its retail space from Seritage Growth Properties, an affiliated real estate investment trust, Sears is able to subdivide space and sublease unused space to other businesses. Whole Foods and Dick's Sporting Goods, to name a few, have already begun operating in once-Sears occupied space, and Sears has plans to continue this strategy.
McDonald's
Executives at McDonald's have decided that spending large amounts of money on capital was not in the company's best interest; this revelation has spurred an increase on leasing McDonald's restaurants as opposed to buying them flat out. Says a company spokesperson "It's a program we expect will increase the company's return on new restaurants". Investors can now look at this philosophy and cheer "I'm Lovin' It".
Wal-Mart
The Wal-Mart Realty Co. has been making strategic moves in the retail real estate game, with decisions to sell excess space near newer, larger stores and buying large amounts of retail space from older stores when Wal-Mart supercenters are built. This strategy works well, especially when considering that the company oftentimes buys excess space, then sells off a portion to other high-traffic businesses and restaurants so they can be neighbors.
"They see this as a major component of their business," said vice president Brad Umansky of Sperry Van Ness in Irvine, CA. "Wal-Mart has made it exceptionally clear that not only is it the world's largest retailer, but one of the largest owners of real estate," he continued.
Wal-Mart is aggressive with its deals on real estate, and it often treats its brokers like their vendors: offering them the best deal so it's almost impossible to say no. Their portfolio currently has 380 buildings, with approximately the same number of outparcels. Since the division's start 15 years ago, it has disposed of almost 1 billion square feet of excess land and building.
Looking for a source of real-time real estate leads to automate prospecting and business development?
Start by creating an account