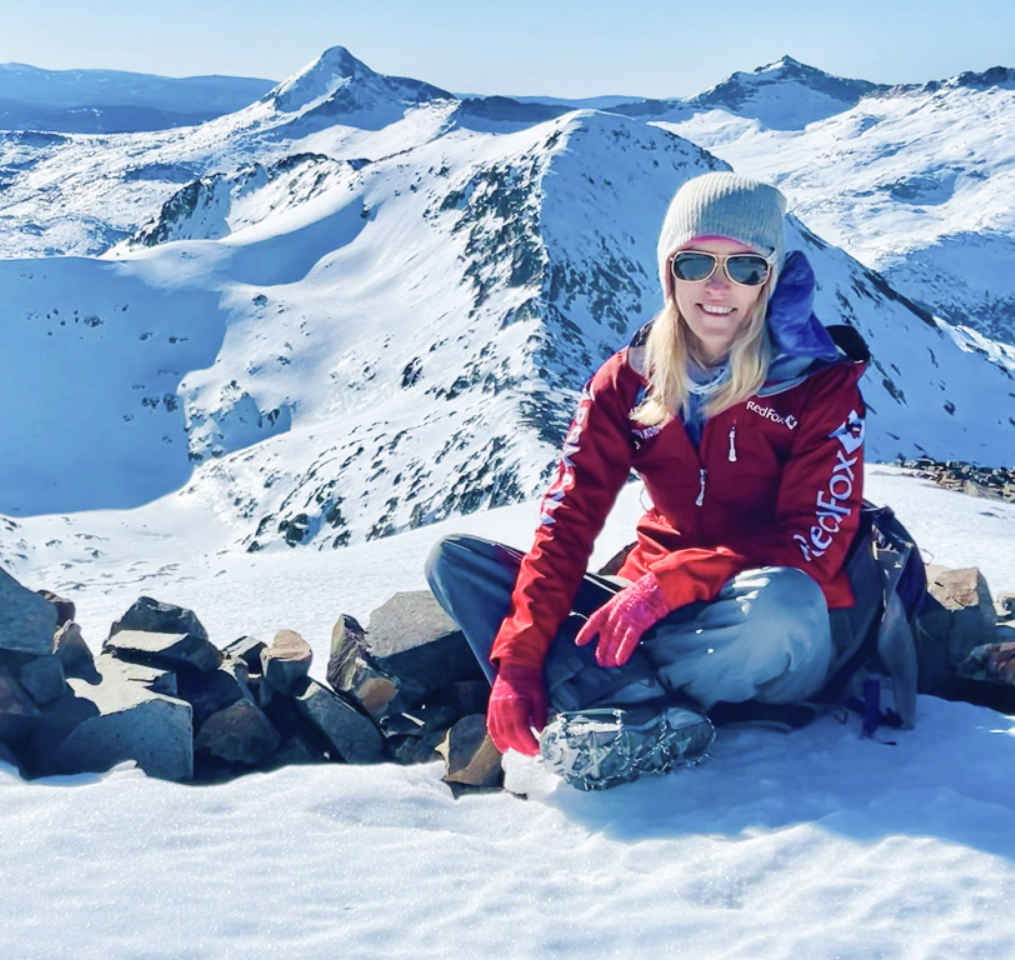 Building and Monetizing Your Mindset: monthly LIVE Masterclass
Next 'Reach Any Summit' Masterclass – Building and Monetizing Your Mindset
Apply for a monthly private coaching program for female entrepreneurs

Class Dates: first Saturday of the month 9 am PT/ noon ET
Your mental patterns build the foundation for everything that happens in your life
Take this popular self-limiting pattern: selling ourselves short. Years ago, I was advising the company that was working with immigrants helping them get professional employment in the US. There was this man who used to be a CFO at the Toyota plant in the Middle East. He moved his family to the US and was working as a pizza delivery driver. I asked him about this nonsense. His answer: "Noone will hire me, I can hardly speak any English". Noone? Really? Did you ask EVERYONE? Just like that he cut himself out of any meaningful professional opportunities. With one belief that he never even bothered testing. I am sure this former CFO could have managed balancing debit and credit at some accounting firm without speaking English fluently.
And now imagine this pattern persists. How many other opportunities is he cutting himself out of?
Self-defeating frameworks and all other mental frameworks are acquired. They are learned and therefore, can be unlearned and replaced with more productive ones.
Have you noticed that when you travel to a new country and place yourself in a completely different culture and the environment, you still end up falling into the same daily routine?
Motivation tricks, smart goals, productivity hacks – these are just tools, mental crutches, so to speak.
You need to update or upgrade your mental patterns before you become successful.
If you have a system, you'll succeed.
You create an effective formula, test results, and invest in what worked.
Success requires a system so The Summits Academy now has a class for that
I am not going to teach you how to live a life. I will just show you a framework that will get you to the summit of your own Everest.
For those who never met me here are some facts about me and a quick intro to what I believe in about living a limitless life:
I grew up on a military base. If you want to know about discipline and loyalty, ask me.
I have been to 60+ countries, my first trip abroad happened when I was 4. Meeting people from other cultures is the easiest way to see your life from afar and develop your meta thinking.
I climbed my first mountain when I was 7 years old. This was the day when one of my dreams was born – to climb the highest and the hardest mountain. Well, in 2021 I did. Dreams always come true, you just need to turn them into goals.
I got my first job when I was 12. Back then noone else could type fast enough on the type writer and they didn't want to learn. Other people's laziness is your opportunity.
I swam from Alcatraz, walked a catwalk in Los Angeles, ran marathons, and kayaked glaciered waters in the far North. It's fun. Life is a cool adventure. We should have more fun.
I summited Everest with a broken rib and without a guide. We are stronger than we think.
I have two Master's Degrees from top universities. I have a crazy high IQ. I was on the cover, on a TV show, and had an offer to be in a climbing documentary. My Mom is proud of me. But I am still trying to decide if these are the things that make us happier and more successful.
I had a successful career in corporate America (real estate finance). Then I started a technology business (real estate as well) and for a long time I have been developing and investing in real estate in California. I was lucky to find my passion early on and then build it into a career – I participated in my first real estate deal when I was 17. Thrive to find your passion, then you will never have to look for motivation.
I have been paying for my sherpa kids' school and helped educate and place immigrants who just moved to the US. Giving back to help other people succeed and live their best lives is the most rewarding thing in the world.
It took me 3 attempts to summit my first "major" mountain, 5 attempts to summit my most "unsuccessful" mountain, 10 years to train for Everest, 2 years for K2 and just 5 months for Annapurna. Although, the learning curve really works, everything takes time. Success is an art of small steps. "Overnight success 10 years in the making" is a good joke but it's true.
Mindset takes time and requires a system
Over the years I had to create a toolbox of frameworks and test them in extreme conditions on 40+ mountains.
Climbing mountain after mountain I noticed there is a pattern to every new challenging climb. If I could systematically change the way I was thinking, it would make every next climb much easier.
In this masterclass I am putting to work my business and mountaineering experience as well as years of advisory work, speaking, and mentoring.
I'll share with you my experience-backed step-by-step, what I did and what I currently do, mistakes I made and ways to frame your thinking to achieve bigger goals. Backed by neuroscience and exclusive stories from the highest mountains.
Week after week you will change the way you do things, the way you think, and the way you see yourself and your business.
💥Yes, you will start thinking from a place of abundance, from a position of strength.
💥Yes, you will also learn the practical skills that will help structure your thinking and increase ROI on your life.
💥Yes, you will take these ideas and skills and expand on them as you continue living your life.
💥Yes, you will identify your purpose and the activities that bring you joy.
💥Yes, you will come up with the plan that will increase your income and life satisfaction.
💥Yes, you will figure out how to change your current life for the better.
It's never too late to be what you might have been, – George Eliot
The masterclass material is broken down into 4 modules
Week 1: Purpose/Mindset/Personal Brand
Motivation is a myth. It is a purpose that makes all the difference. You set your goal based on that purpose. It propels you and makes you get up in the morning. So you never have to think what might have been. In business you broadcast your purpose via your personal brand. We'll go through practical steps that will help you formulate your personal branding and positioning strategy in your business.
Week 2: Goal-setting and productivity hacks
Here in the US you are supposed to be busy, it is like a badge of honor many display. To me it really means that you are very bad at managing your energy and your priorities, you don't respect yourself and your own time. Just a thought. We'll talk about it. We will complete goal-setting and personal productivity exercises.
Week 3: Risk taking and dealing with fear
There is very little scientific research done on how humans deal with fear and uncertainty, especially in extreme or high-pressure situations. I have read most of this research while I was training to climb Mt Annapurna, the deadliest mountain on the planet. I tested that research in April 2022.
There is a way to deal with launching a business in uncertain market conditions, to stay sane while news on wars, recessions, and viruses are bombarding you, to live a purposeful life while everyone else around you is drowning in negativity.
Week 4: Monetizing your mindset
Of course, we will talk about business and money. In our last module will be putting it all together and we'll talk about monetizing your mindset. We will focus on discussing business use cases that students identified during their application process.
I have bootstrapped and grew several businesses so we'll utilize my knowledge for the benefit of the group. My specialties are setting up new ventures, go-to-market strategy, finance and financing in asset-heavy or service-oriented businesses or technology.
We will build individual accountability checklists and you can stay in touch with me after the class to make sure you keep working towards your goal.
Here is what my current mentee says about working with me
Under Olga's guidance in short 2 months I was able to find my purpose, am launching my online venture and currently applying to TED Talk. This is huge for me! Olga's limitless mindset she gained from the years of mountaineering and entrepreneurial experience provide a unique perspective on life and goal setting. It is simple, effective and most importantly rewarding. 
This class is for you
– if you are an entrepreneur or looking to become one,
– if you have your big goal you want to start working on,
– if you know that everything takes time and effort and you are willing to invest both in yourself.
This class is not for you
– if your goal is not big enough (if you are investing your time in training, you might as well aim for Everest),
– if you plan to complain and look for excuses and not do any work (I like results, I want you to have results),
– if you are "busy" and cannot dedicate ~10 hours of your time to this adventure (this is a significant investment you are making but you can use what I teach you for the rest of your life).
More testimonials from inspired audiences after my public speaking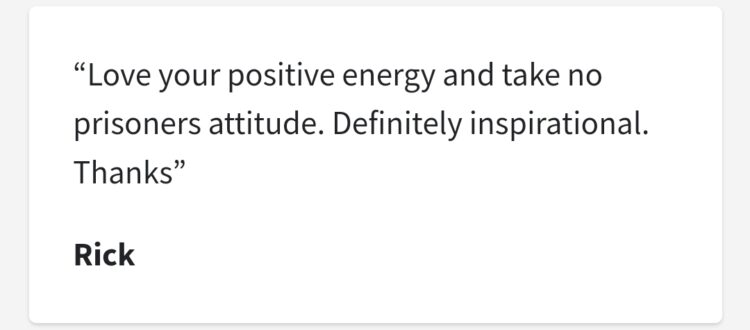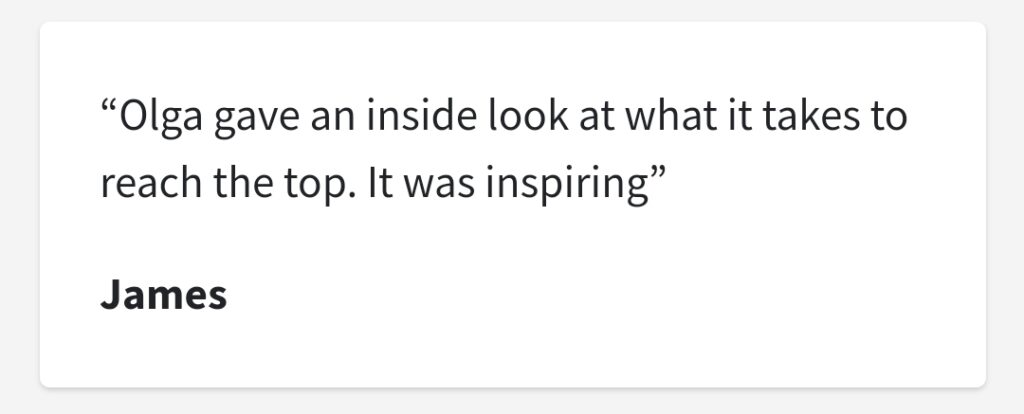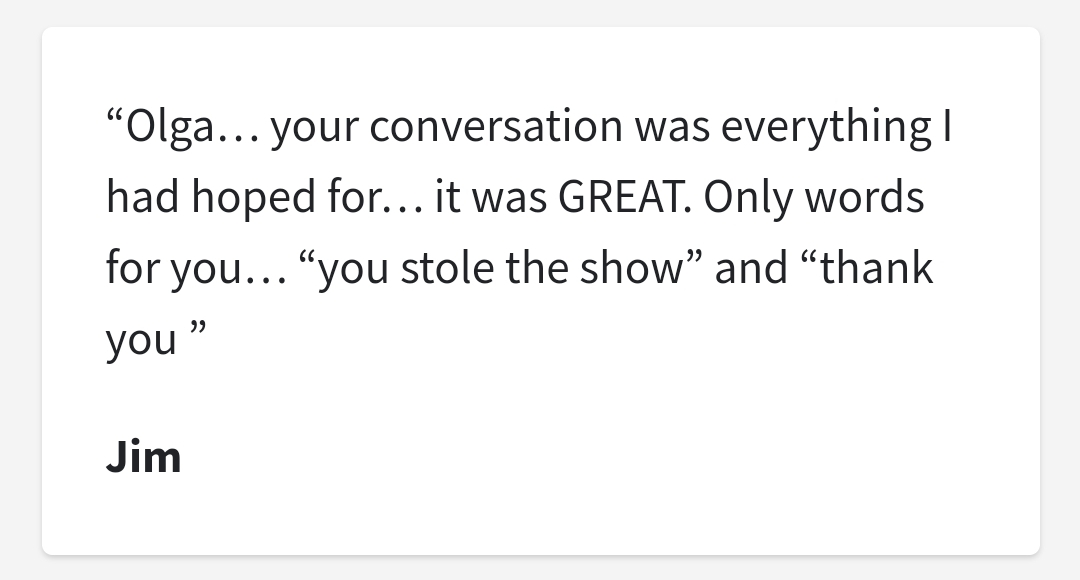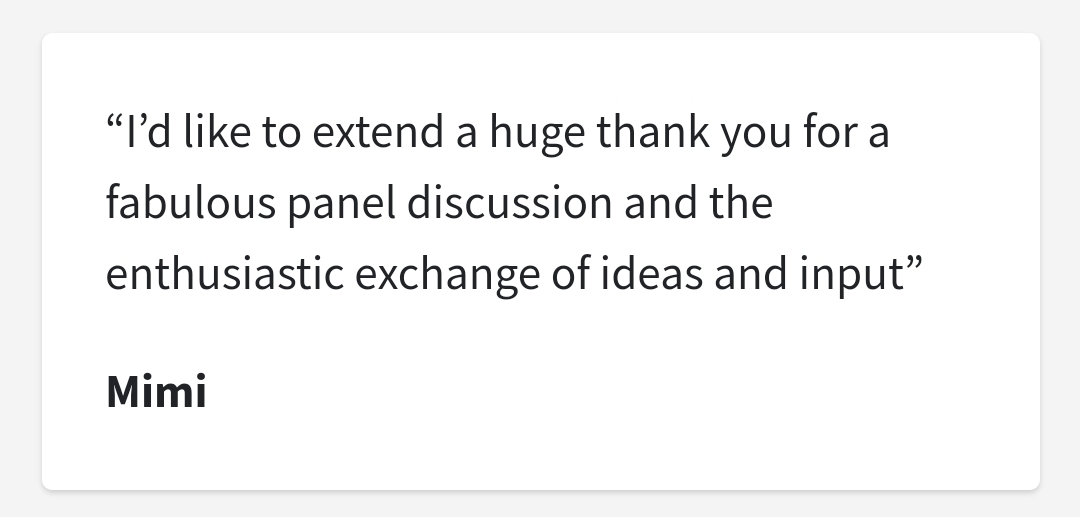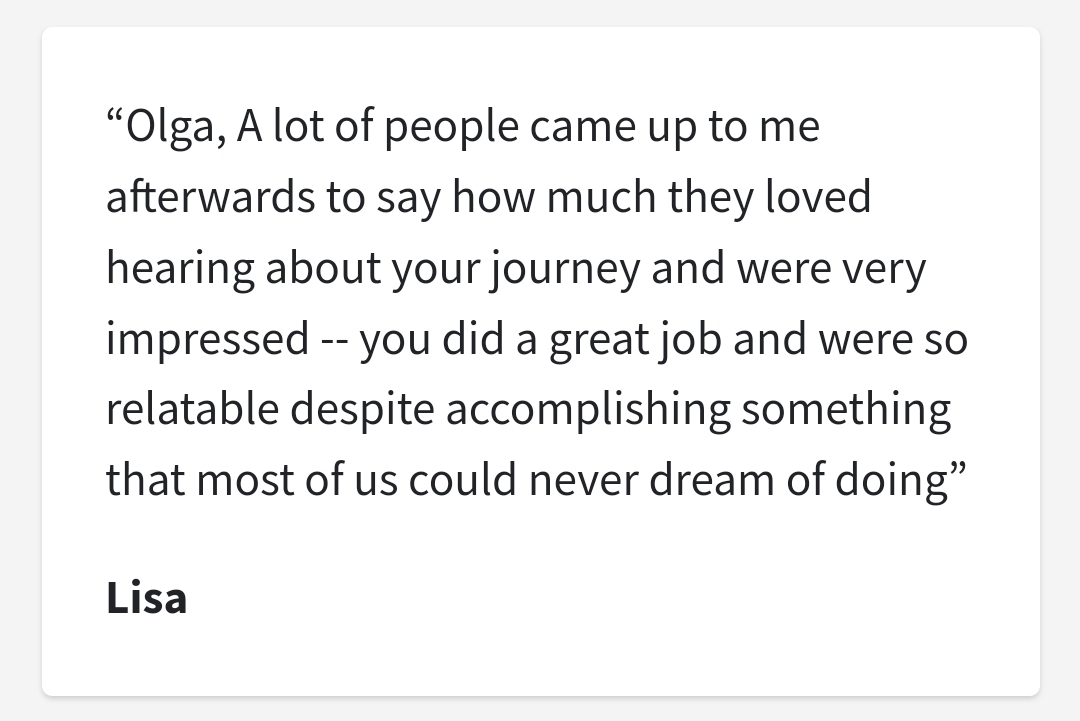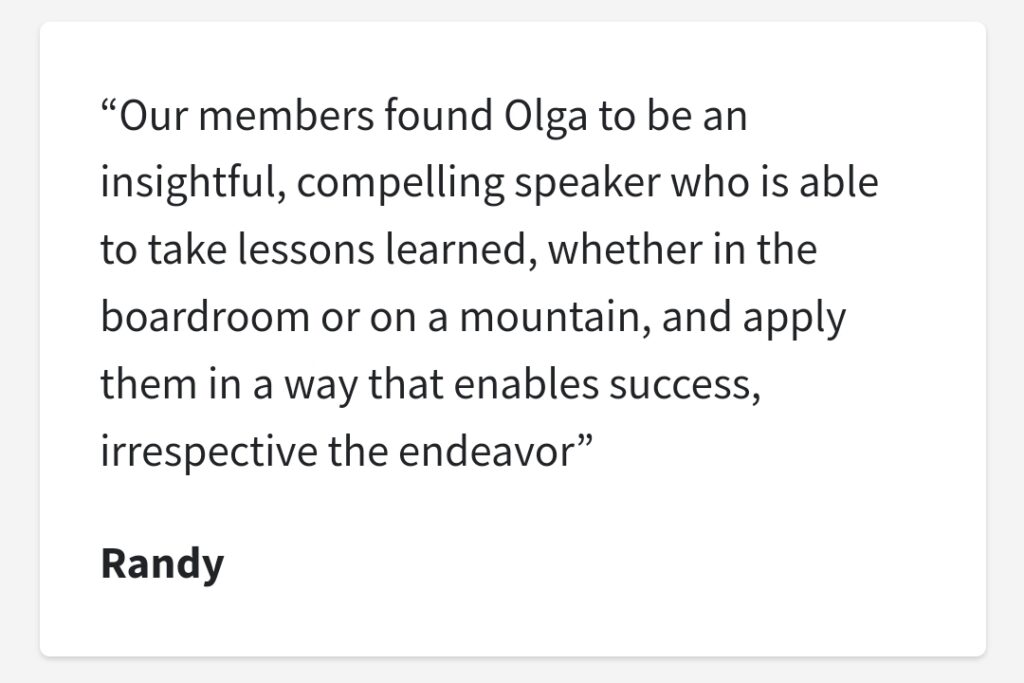 Ready to reach your next big goal? Apply here
I will train you to summit your own Everest. Maybe even K2 if you are willing to listen.
I will teach you to not be afraid.
Expect tough love and results.
You can summit ANY mountain if you just train, act, and stay focused. Everything is possible.
I believe in you.
Keep climbing.
Masterclass curriculum
Purpose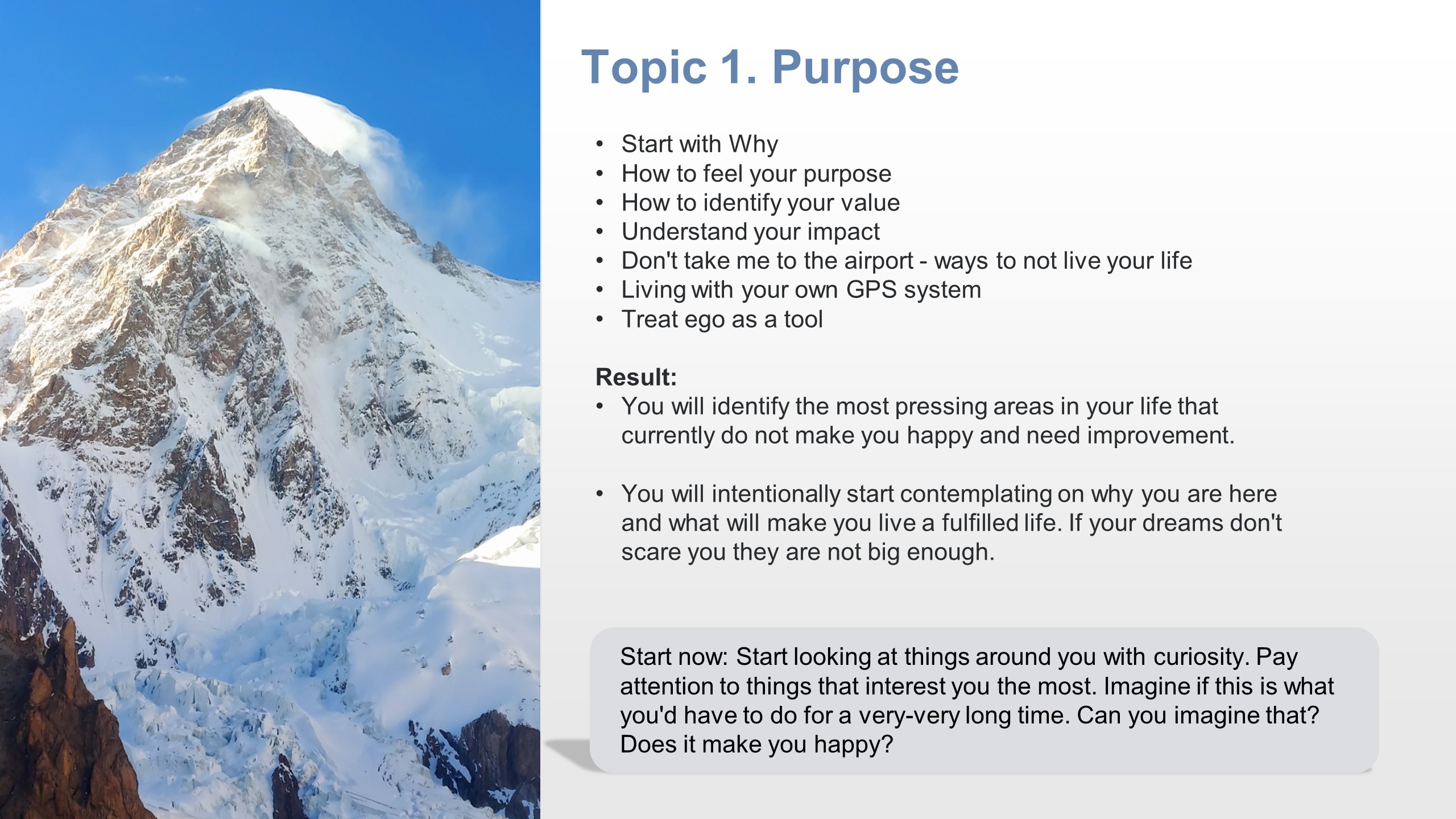 Mindset of a winner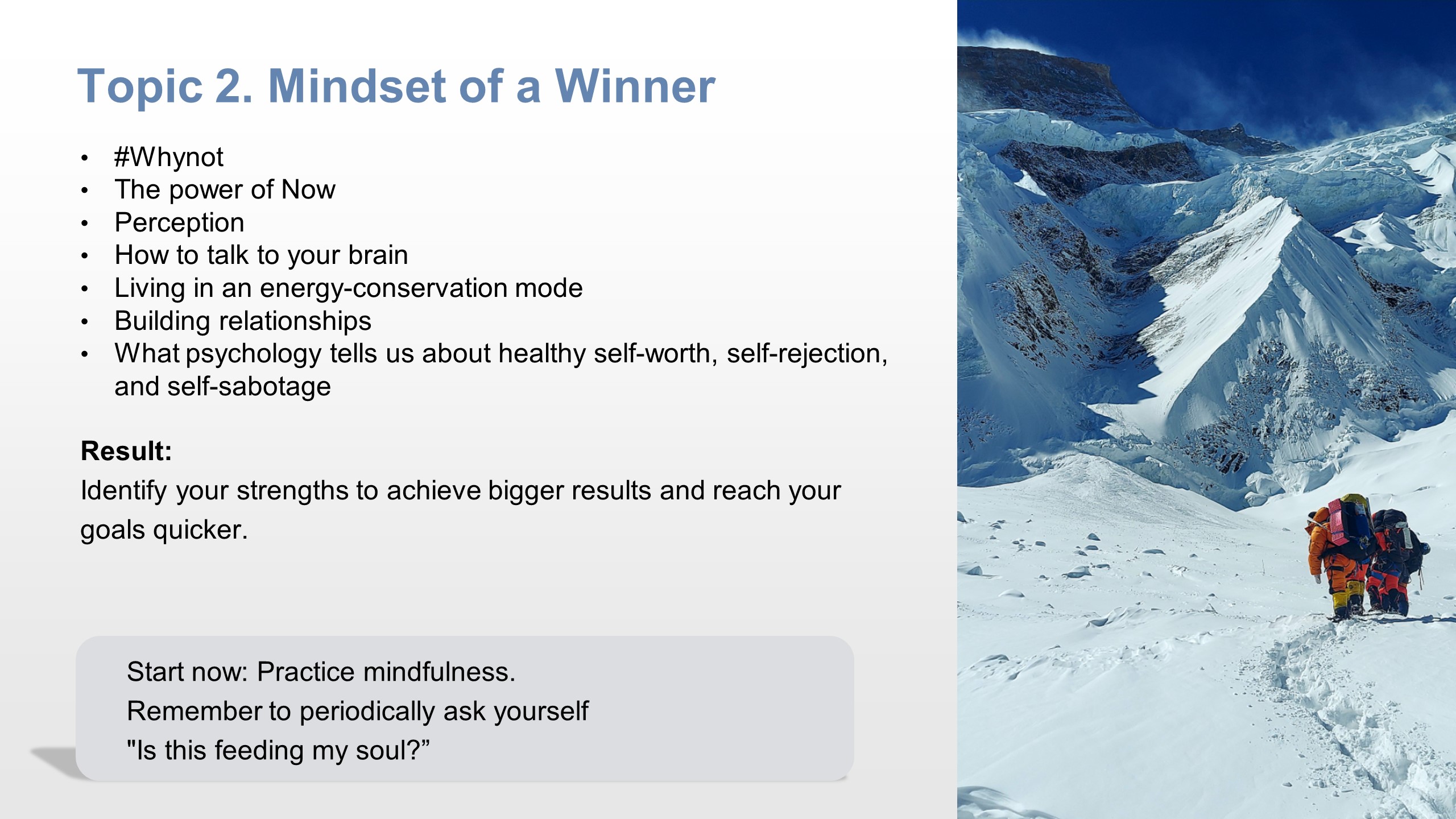 Goal setting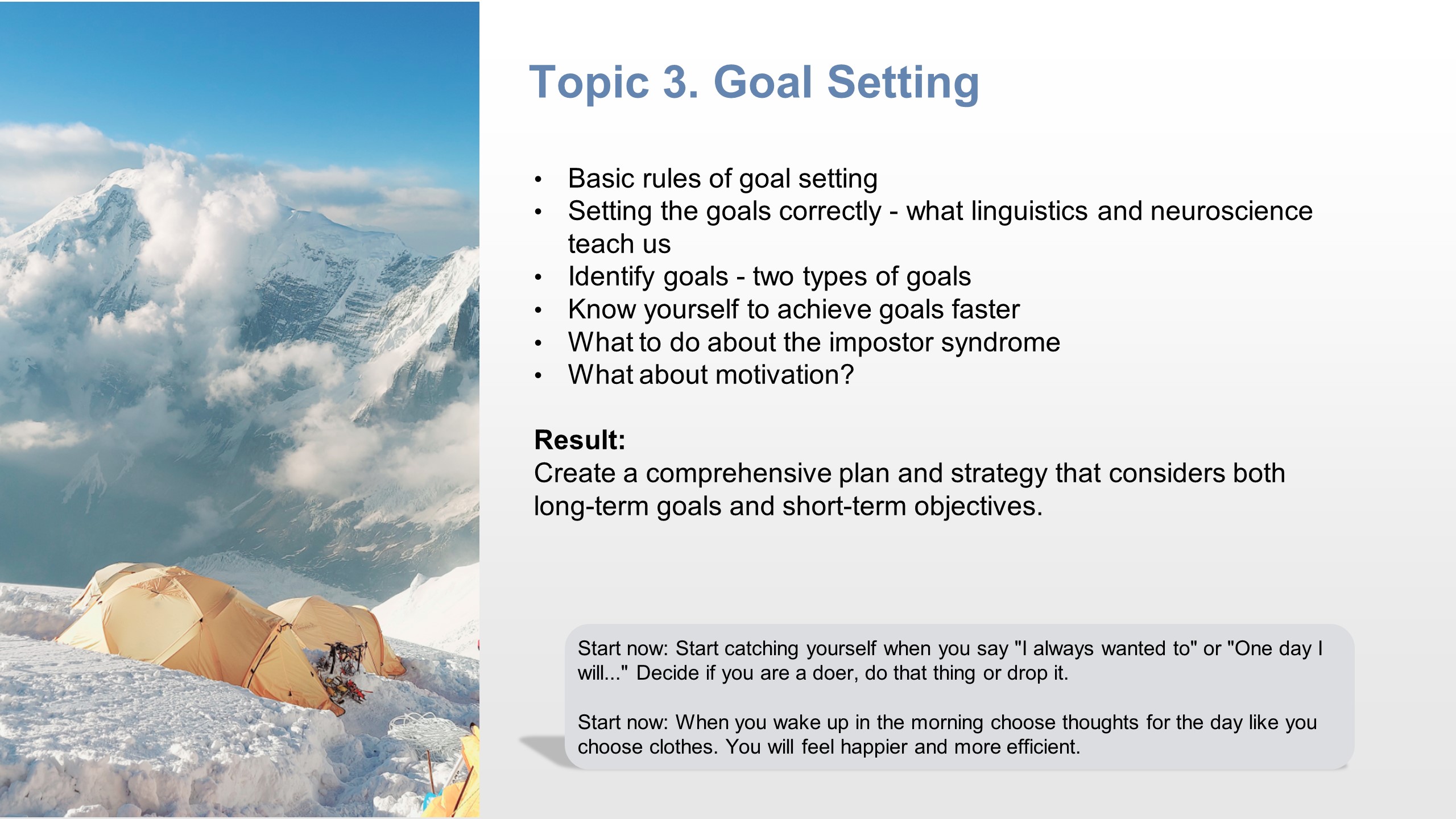 Focus and Productivity habits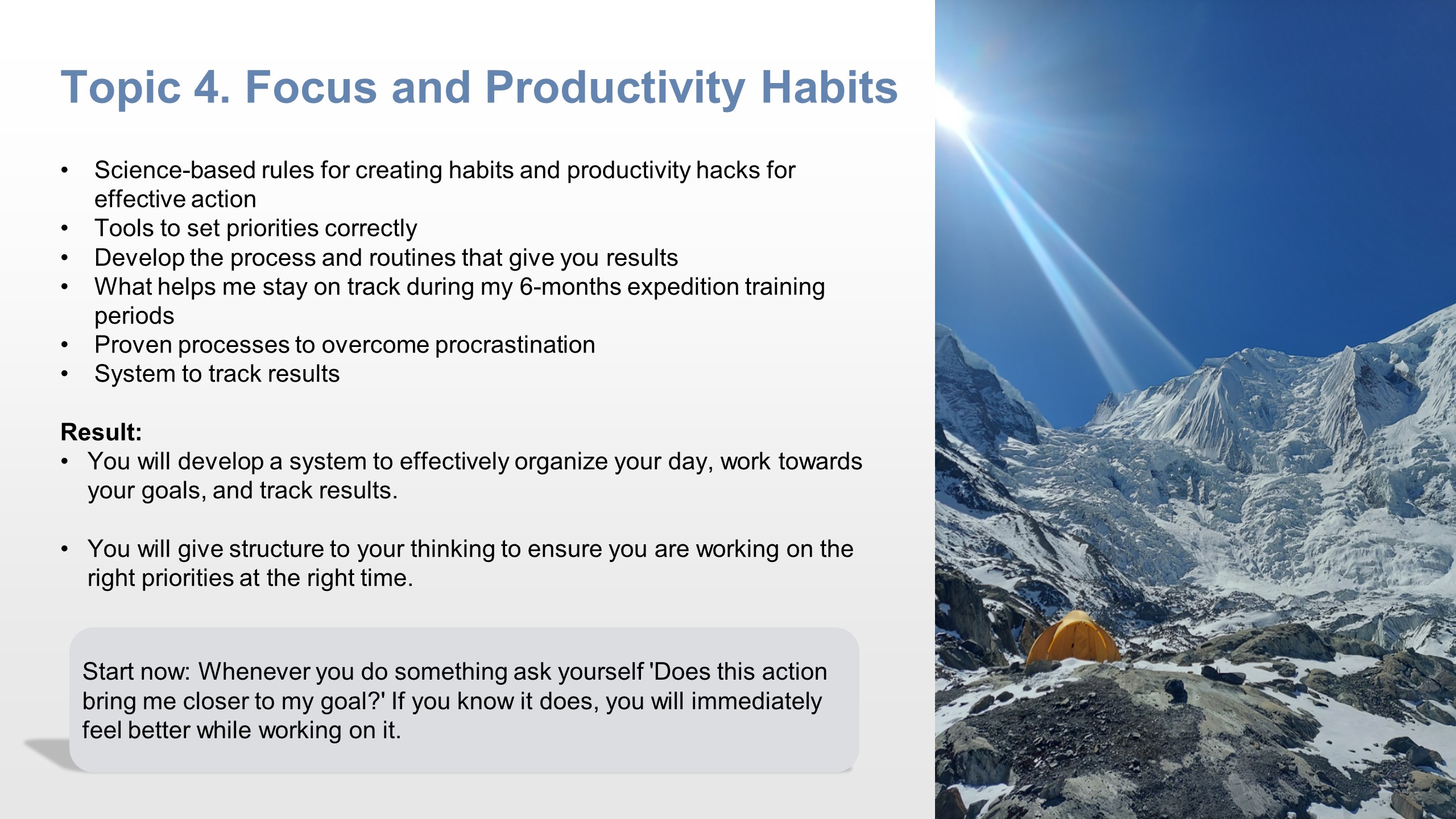 How to take risks
What's included
Apply for a monthly private coaching program,

Dates: first Saturday of the month 9 am PT/ noon ET,

Small group,

Four 1.5-hour group calls and personal support from the instructor: lecture and group discussions based on students' use cases,

Workbooks with ideas you can use for life,

Recommended book lists for each topic,

NFT from The Summits Academy alpine collection with membership benefits,

Private The Summits Academy chat group,

Invitation to the invite-only The Summits Summit for executive women Summer-Fall 2024,

Investment: $150 per class (or $100 if you have a referral, know me personally, or bring a friend).
Apply for a monthly LIVE masterclass
Popular posts on similar topic: 
About the author: 
Olga Koroleva is a founder and CEO of Capital Brain, a company that builds AI-powered products. She is also a high-altitude mountaineer who likes to climb mountains with double-digit death rates, University lecturer, and a public speaker on leadership and risk taking. Sign up to her self-leadership newsletter at https://capitalbrain.co/blog/