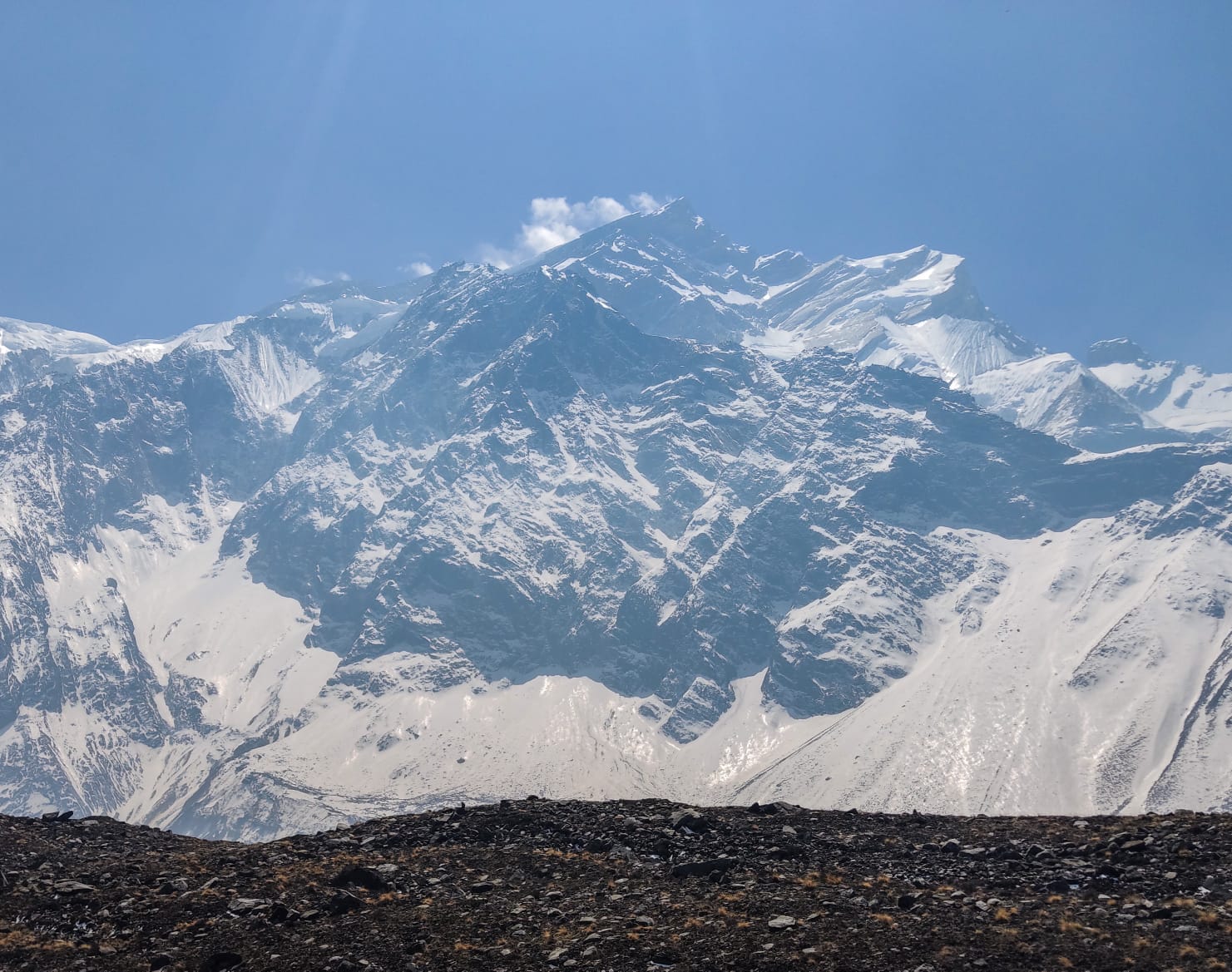 Update: On April 28th 2022 I summited Annapurna I and became the 1st Russian female mountaineer to do so.
Victory!
Today is 2 months since I summited Annapurna I and I finally got through all my pics and notes. Check out the recap of the expedition in the Annapurna folder on Instagram @okglobaltravels.
Climbing Annapurna I has been a treat of uncertainty and surprises. Difficult climb – lots of avalanches (one day I counted 16 in 6 hours), constantly changing weather that refuses to stick to the forecast, and a 2-day rescue of a couple of our climbing friends. So yes, there are reasons less than 300 people summited since the 1950s.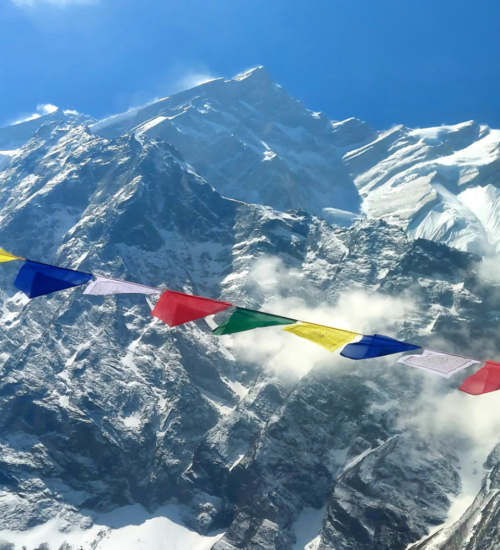 Week 1-2:
The first two weeks we've spent mostly acclimatizing and doing rotations to the lower camps. The weather is perfect, very little snow this year which decreases the danger of avalanches. But the serac that might fall at any moment in the mini bottleneck above Camp 2 is still there. We looked at our team resume, we have 52 8,000der summits for the 12 of us, a highly experienced team.
Lots of calm mornings. We've been mainly lingering around, walking from one camp to another (only 4 this year so not much in terms of social life), doing laundry, reading and listening to the same 100 songs on Spotify.
We managed to do one rotation to Camp 1 and to Camp 2 and stay overnight. My body is feeling really tired, expedition life is getting to me. There seems to be a summit window in 4 days, at least a week earlier than usual. I am excited to get it done soon.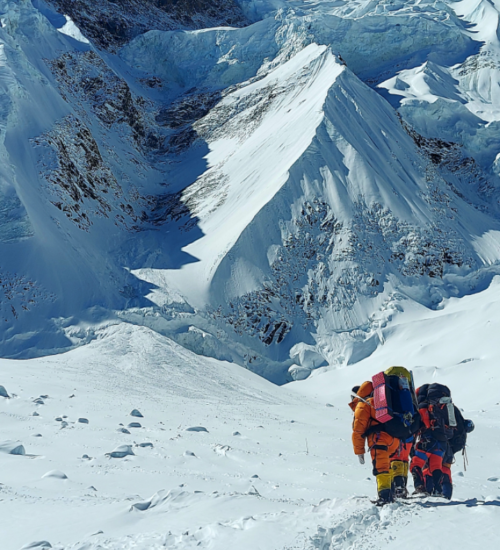 Week 3-4 and a failed summit push:
The phone stopped seeing our wifi network, suddenly. Perhaps, the mountain is telling me to tune out (surely the problem went away the minute I returned to the village post-expedition). The fixing team and the sherpas left for Camp 2. We are moving up tomorrow. I feel nothing but excitement to finally have the mountain for myself. Getting tired of sitting around listening to the songs in the language I don't understand. The whole expedition is very different this time – I am spending time socializing and partying instead of mediating and reflecting.
Summit bid started. I am happy – I am finally summitting my dream mountain. Sometimes the route gets difficult but these rocks are just the path to the summit. We got to Camp 1 and the weather turned for the worst. There was no way for us to keep climbing to Camp 2 where our overnight gear was stored. So the five of us ended up sleeping in one tent sharing a single sleeping bag and two packages of Ramen noodles. There was 3 ft of snow overnight (vs forecasted 5 cm) and the next day full of avalanches coming from above Camp 3. I've gotten used to the sounds of avalanches: in the beginning I felt some unease, now I treat it as just another spectacle.
The fixing team went up and opened the route to C3 but one day later as planned so we are missing this weather window. Everyone has descended back to Base Camp.
Next step is waiting for the heli to deliver ropes to Camp 3 so we can fix the rope to higher camps but the weather has not been cooperative. It's day 24 and I am starting to feel caged in. Groundhog day: breakfast, drink beer (yes, right after breakfast), read, have lunch, sleep, visit other camps, talk about nothing, dinner, read, watch the moon over the summit, meditate, sleep, repeat. Summit bid date is nowhere in sight.
I keep reminding myself that in the systems view of things the world is best organized spontaneously from below. Therefore, the best plan is to often not to have one so I am just patiently waiting for the things to unfold.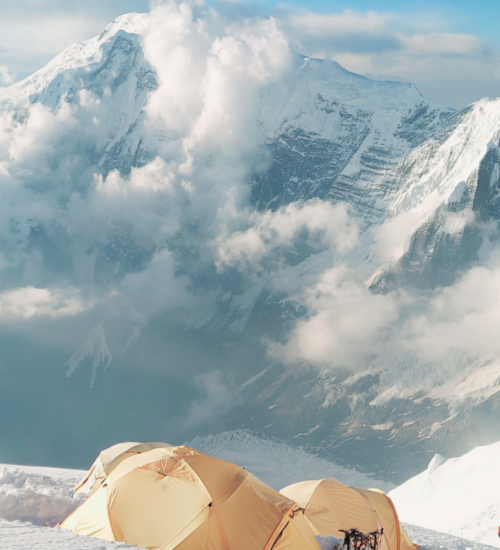 Week 5. Summit push #2
4/26 Day 29. The long line happened today (the heli dropped the ropes to Camp 3 for fixing higher camps). On our way from Camp 2 during summit push we got stuck 200m before the Camp 3 due to bad weather, had to set the temporary camp – I am sleeping with 4 people in the tent again) But it's OK, we had to act on the fly but I feel warm and strong. Thankfully, I have my own sleeping bag this time. Annapurna is waiting for me.
4/27 Day 30. Perfect weather. Setting up Camp 4 at a random place, just like Camp 3 the previous night. Looks like a summit bid is happening tonight, hopefully, there is no snow, already too much. Please.
4/28 Day 31. Summit. I did it again. Afterall it was not that bad. I need a harder mountain.
4/29 Day 32. I am descending to Camp 1 listening to the Search and Rescue heli that's looking for my friend. Out of 12 people only 5 summited, 2 did not return on the way down (an extremely experienced Italian climber and my Russian friend). I can hardly see the way down because of the tears. Crying is really inconvenient when you have to wear glasses all the time not to get snow blind. 30 min after I descended from Camp 3, the avalanche stroke in the bottleneck, right along the fixed rope where I was climbing.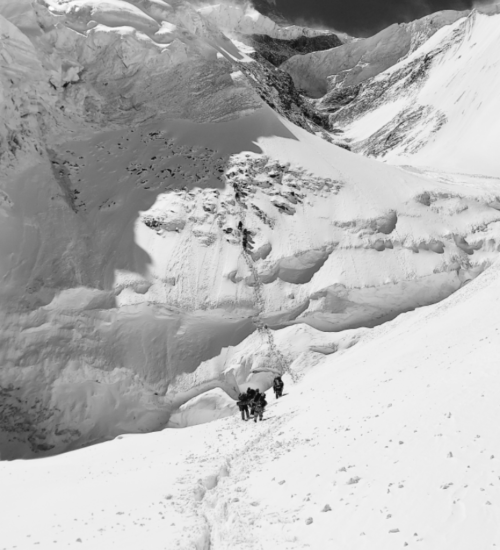 Annapurna I delivered. It is exactly what they say it is – dangerous, unpredictable, and rewarding if you go there with the right set of mind.
On uncertainty
There has always been risk in my climbing. The probability of a bad thing happening or a good thing not happening. Very similar to how we approach risk management in making investment decisions. The distinction between risk and uncertainty was proposed by Knight in 1921: in the case of risk the outcome is unknown but the probabilities of certain outcome are measurable. In the situation of uncertainty both the outcome and the probability distribution are unknown.
Pragmatically, the state of uncertainty is reduced by assigning subjective probabilities to the state of risk (thus controlling the factors we can measure).
Risk in climbing is easy to measure – past summit stats, weather reports, quality of gear, resumes of team members. This is what I have been preaching since I run a quant company – you can always calculate risk, the more and better data you have the better chances you have for the successful outcome.
But NOT THIS TIME.
Climbing Annapurna was more like buying a lottery ticket and hoping you won. Nothing was predictable, our schedule was always fluid and every day felt like a new adventure, weather forecast was mostly wrong (we had to abandon a summit push because we received 30 cm of snowfall instead of forecasted 5 cm), avalanches were hitting in any spot they pleased, even the route is fixed  in different areas every year due to the changing positions of the ceracs.
Interestingly, according to the academic research, people are less sensitive to uncertainty than to risk. The cortisol response to stress impacts the decision making under stress but not under uncertainty. Moreover, risk and uncertainty are coded differently in our brains.
Detaching from the situation and focusing on performing my best every single moment (something I can control) was what worked for me.
On focus
I always talk about focus. During the training period (3-6 months before the expedition begins) I only focus on the summit. I assume I will summit and I focus on training my body to perform to the best of its abilities no matter what. Discipline is my best friend during this period because it arranges my life and doesn't let me drain my energy in choices. The training journey has become easier over the years. It took me 10 years to feel mentally and physically ready to attempt Mt Everest, two years to get ready for K2 and only 6 months to prepare for Annapurna I.
Then comes expedition time. It is the time to let go, forget about the summit and perform in the moment. At that time I detach from my goal. I don't lose sight of it but it becomes less important. It is about the process now. While on the mountain I know if I focus on reaching the summit no matter what, then I will start stressing, lose focus, my body and mind will no longer be in the flow.
And my teammates, the ones who summited were there to summit a mountain. They showed up without any mental baggage from sea level. Clarity and focus matter.
On avalanches
Avalanches are always there. This is why Annapurna I is the deadliest. They become part of everyday life, this sound of the approaching train. In the morning when they come it feels like my tent is set on the runway and planes takeoff right above me. During the day at the base camp we are all just enjoying life being humans but always freeze when we hear avalanches – we all know once we start ascending this danger and possibly death will become part of our reality. I was sitting at Campt 2 watching the avalanche coming down on the tent over Camp 1, four of my teammates were inside. The 6-person fixing team went up to Camp 3, fixed it and descended. 30 minutes after the descend the avalanche came down and destroyed the entire route, we lost supplies. When I descended after the summit the avalanche hit the trail right behind me, just 15 minutes later.
The fear slowly went away. I got used to the sound. I learned to live with the thought that I might die at any moment. But isn't it how real life works as well? I am trying to focus on the birds signing and appreciate the view of the yellow butterflies that are everywhere here.
Climbing this mountain was my own choice. Avalanches were a part of the experience. Just keep climbing.
Says who?
Use oxygen. This is controversial as many mountaineers consider use of oxygen is not pure mountaineering. But you see, don't you want anything you can get to make your life easier? We had two rescues on the mountain. The climbers were climbing without oxygen and their bodies were getting colder faster. When they were rescued they had frost bites and might face amputations. Why make yourself go through this? Life has enough situations when the going gets tough. If there is a way to make it easier, why not? Because someone said it was not kosher? Who sets the rules? Who decides what's the best way?
Old ways and someone else's opinions are not necessarily what works best for you. Go with how you feel. Use oxygen.
Perception matters
There were two friends in our group. One day in week 1 they went on the rotation to Camp 1, upon return one of them abruptly decided to end the expedition and another one stayed through the summit push. The reason? They went on the same rotation hike and looked at the same mountain. But one saw a summit and adventure and another one saw struggle, fear, and death.
At our nightly briefing we don't talk about death stats, only summit stats. Interestingly, the most dangerous section everyone has been talking about – the bottleneck between Camp 2 and Camp 3 – only killed one person. The other climbers died for various other reasons (and there is no pattern there, too). So before you allow yourself to feel fear, does it make sense to check the stats?
If you think it will be difficult, that's how it will be.
As for me, I was expecting the expedition to be a fun adventure and it was.
And if the weather is bad, well, it is just weather, I put warmer gear on and keep climbing.
Remember to use your heartbeats wisely.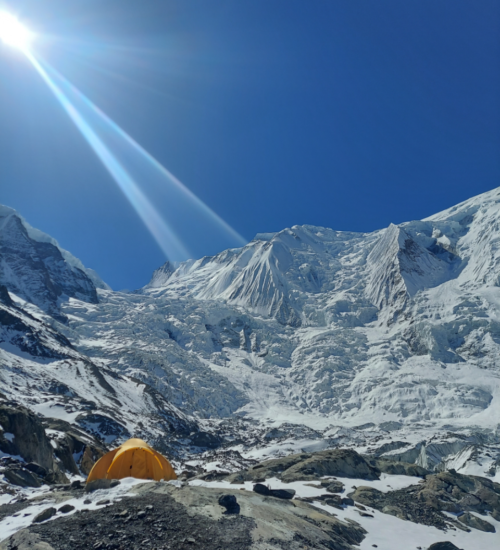 Pre-expedition note from March 25, 2022
Here we go again. I am in Kathmandu, Nepal ready to embark on my latest adventure – my 4-weeks attempt of Annapurna I, until recently the deadliest mountain on the planet. This will be my 40th climbing expedition. I plan to retire from big mountains climbing and Annapurna is to be the conclusion of my breath taking climbing adventures. My entire life I dreamt of summitting the three mountains on Planet Earth – Everest, K2, and Annapurna. I am eagerly waiting to find out what this next big climb will teach me.
Mt Everest (8,848m), the highest mountain on the planet, let me spend 20 minutes alone on its summit (an introvert's dream:)) The climb taught me to surrender and trust; there is no reason to control the things we cannot control. All we have to do in life is step back, observe and then make a choice that feels right to the heart. No reason to bother with what everyone else is doing because noone knows better.
K2 Mt (8,611m), the second highest and the hardest mountain on the planet taught me that we are stronger than we think we are, no matter the circumstances. Just keep following your trail, one step at a time. Even if you are cold, tired, and there is not enough oxygen. Whatever. Keep climbing. There is a goal to be achieved.
Annapurna I (8,091m), formerly the deadliest mountain on the planet luckily has seen its death rate drop under 30%. Or, as my friend says 'This is crazy! The Russian roulette has 17% death rate!' The mountain is deadly because of the avalanches. Something you can sort of control but not really. So let's see how "lucky" I get on my first attempt.
Grateful to all my loyal friends who have been with me along the way, your support has been empowering me to reach new heights.
Remember to use your heartbeats wisely.
Update: On April 28th 2022 I summited Annapurna I and became the 1st Russian female mountaineer to do so.
Every first Saturday of the month at 9 am PT/noon ET I hold a 1.5 hrs 'Reach Any Summit' Masterclass – Building and Monetizing Your Mindset. Every month there is a new topic that we cover from 4 main categories: Purpose/Mindset/Personal Brand; Goal-setting and productivity hacks; Risk taking and dealing with fear; Monetizing your mindset. You can join for just one session and see if this is for you. Email me to find out the next month's topic.
Attend the Masterclass
Popular posts on similar topic: 
About the author: 
Olga Koroleva is a founder and CEO of Capital Brain, a company that builds AI-powered products. She is also a high-altitude mountaineer who likes to climb mountains with double-digit death rates, University lecturer, and a public speaker on leadership and risk taking. Sign up to her self-leadership newsletter at https://capitalbrain.co/blog/
Image credit: Parth Upadhyaya @iam.parth
References:
Schultz, W., Preuschoff, K., Camerer, C., Hsu, M., Fiorillo, C. D., Tobler, P. N., et al. (2008). Explicit neural signals reflecting reward uncertainty. Philos. Trans. R. Soc. 363, 3801–3811. doi: 10.1098/rstb.2008.0152
Buckert, M., Schwieren, C., Kudielka, B. M., and Fiebach, C. J. (2014). Acute stress affects risk taking but not ambiguity aversion. Front. Neurosci. 8:82. doi: 10.3389/fnins.2014.0008