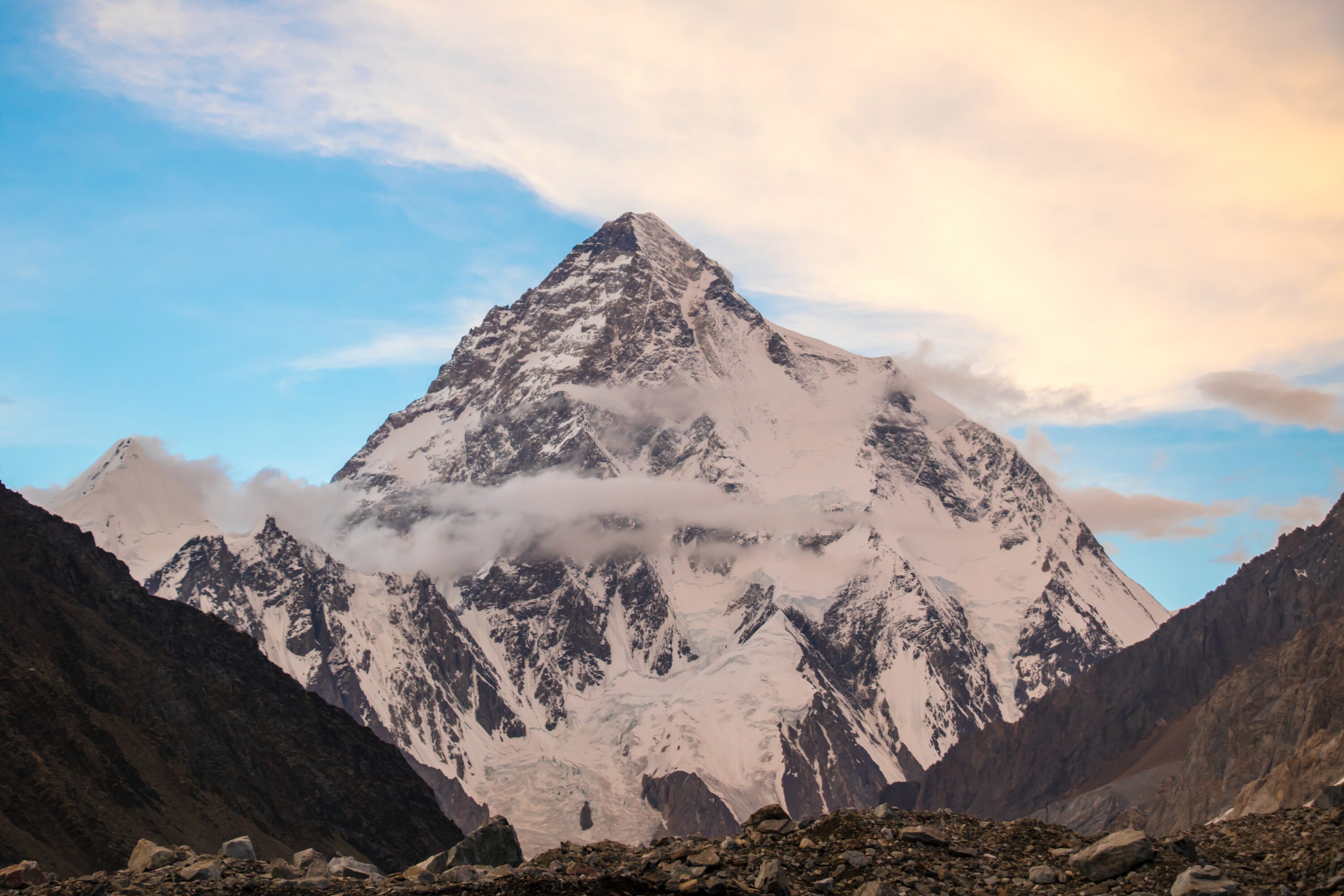 This blog is usually about real estate. Not this time…
I want to share that I am currently in Pakistan about to embark on my attempt to summit K2, the second highest and the hardest mountain on the planet that has a 25% death rate and which was summited by only about 30 female mountaineers (compared to several thousand for Mt Everest). After two years of everyday training and 35 summits in the past ten years I am finally feeling mentally strong enough to give K2 a shot.
I am grateful for tremendous support I received from my friends in the form of nutrition tips ("Еat more steak!"), altitude tent, company on my training hikes around Tahoe (plus my best friend – a 40 lbs weight vest), neverending flow of calls with well-wishes, help navigating bureaucracy in Pakistan, "you-got-this" text messages of support… Most of this support came from my real estate industry network. Thank you so much!
For Instagram updates please follow @okglobaltravels.
Update: On July 27th 2021 I summited K2 and became the 1st Russian/3rd American female mountaineer to do so.
Thanks everyone for the support and well-fishes I received last month (I think that newsletter had the highest open rate ever) and those of you who emailed periodically to check in on me.
This blog post describes my journey and some lessons learned. In summary, I am still alive.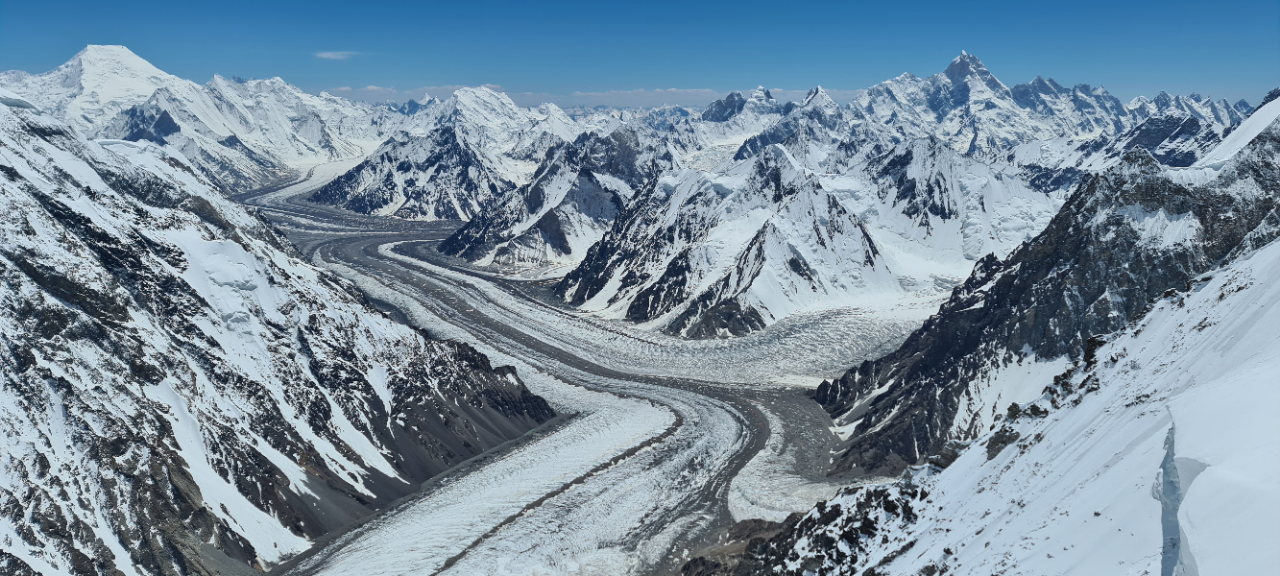 I managed to last in Pakistan for six weeks without wine, enjoyed unusually warm weather on the mountain (hello, climate change), had lunch with the General from the PAK Army, climbed by two dead bodies without fainting, and sparked a political argument on Facebook with my summit picture (by holding a Russian flag while wearing a yellow/blue downsuit. This did not go well with the Ukranian audience. Little did they know, yellow/blue are UCLA colors. Go, Bruins!)
More pics on IG @okglobaltravels.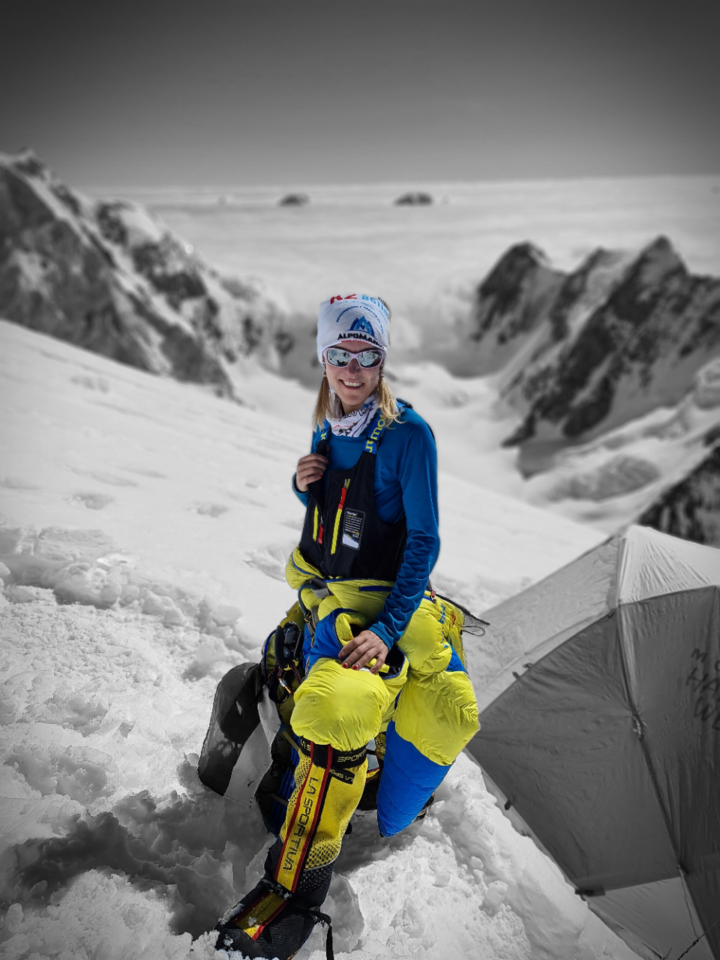 Week 1-2:
So, after 6 days of boring hiking we finally got to the K2 Base Camp (16,700 ft). Only 4 expeditions are attempting this year and the camp feels deserted. 
The plan is to rest and acclimatize for the next three days and go on our first rotation to Camp 1.
And for now, the days are lazy, the food is great and I am starting to suspect I will end up gaining weight from all the chapati 🙀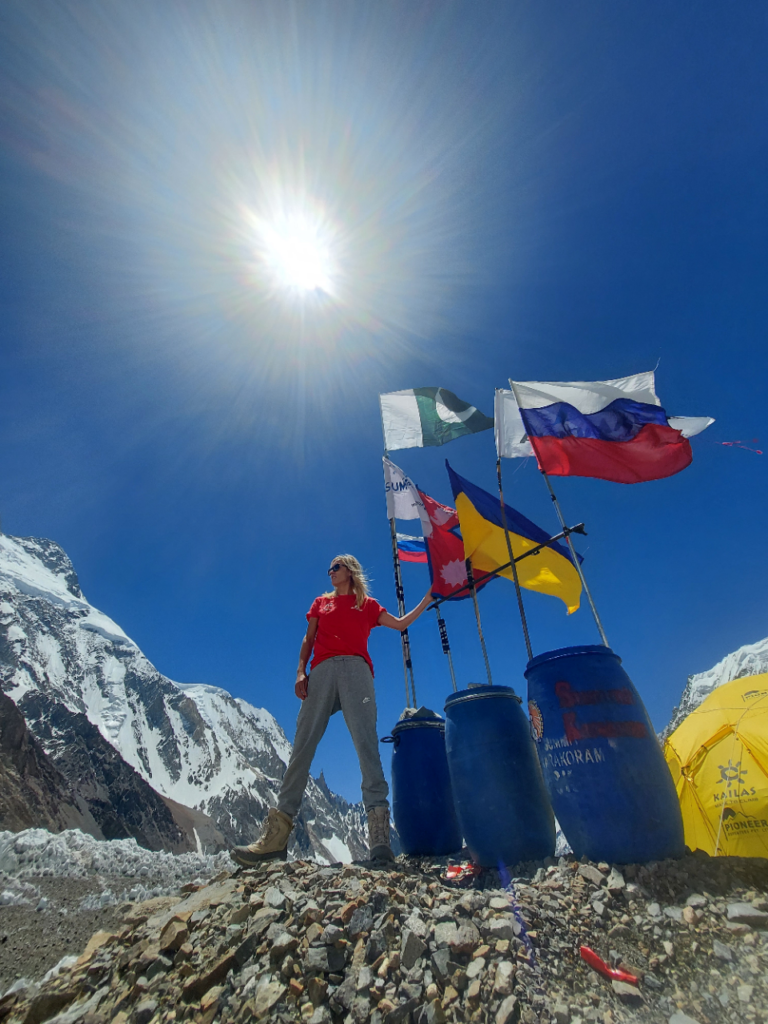 Week 3-4:
Another week passed. Days go by with no surprises. This past week some teams opted to stay put, my team decided to do a second rotation to Camp 1 for one night not to lose acclimatization.
And now we are waiting for the weather window which is expected starting the 24th.
We are spending our days walking from hilltop to hilltop in search of wifi, discussing summit bid strategy and where we miraculously get the tent space in Camp 1 if everyone does summit bid on the same day.
I am fighting a mellow fever but mentally feeling very strong, excited to finally have an opportunity to see the K2 summit.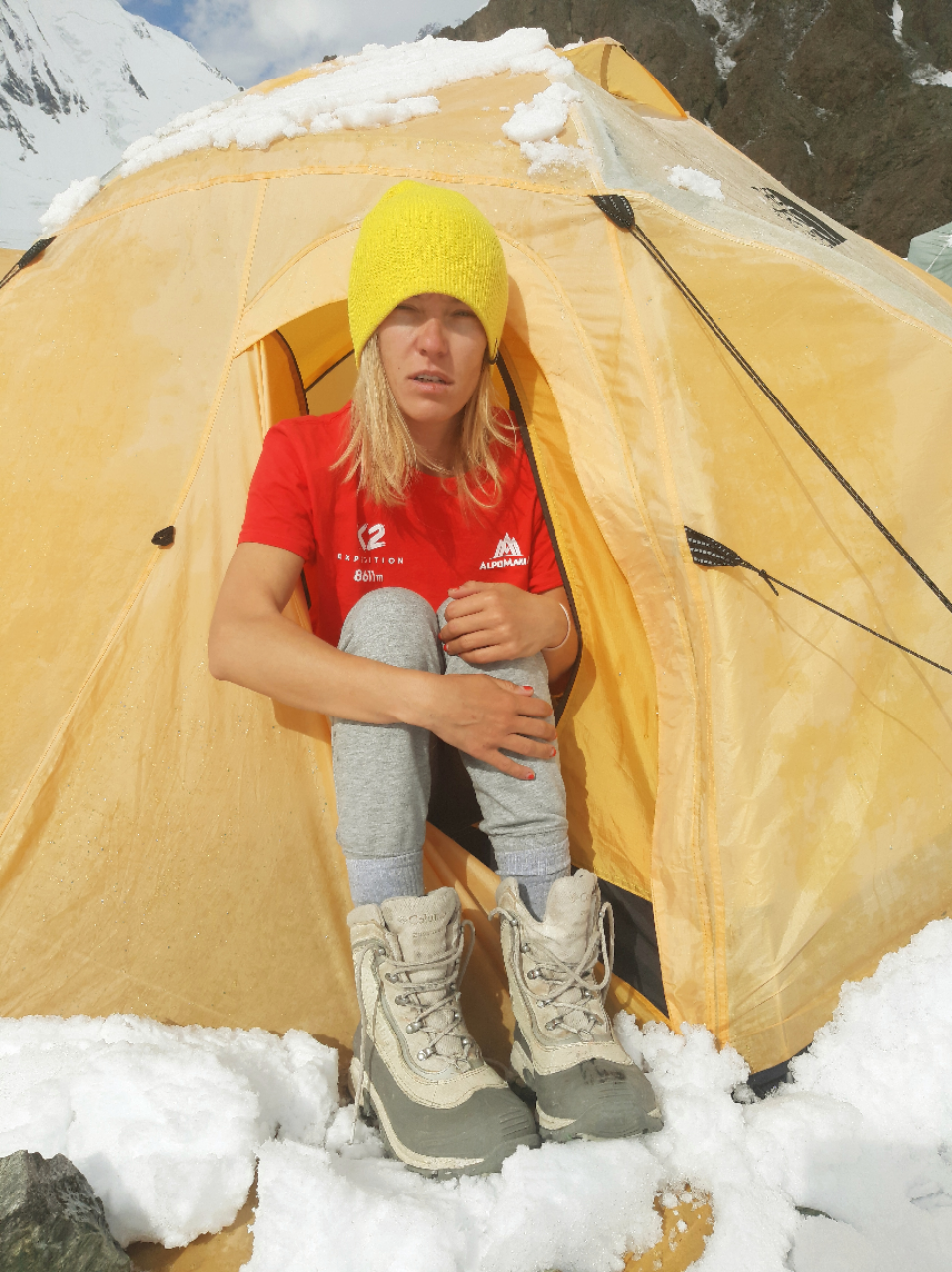 Summit week:
I summited K2 on July 27th. Should I say something wise right now? I always thought the goal of climbing was to enact some kind of spiritual change… To my surprise this mountain was not able to enact any.
It is just such a hard mountain to climb, there is no time to think.
No thoughts in my head ever. Just a light from a headlamp in front of me. Heavy breathing in the oxymask. Left, right, left, right. Freezing cold. Dead bodies on the way. It was a hard climb. Made it back down in 2 days. Surreal ice fall in the night, supportive sherpa, and lots and lots of Coca-Cola.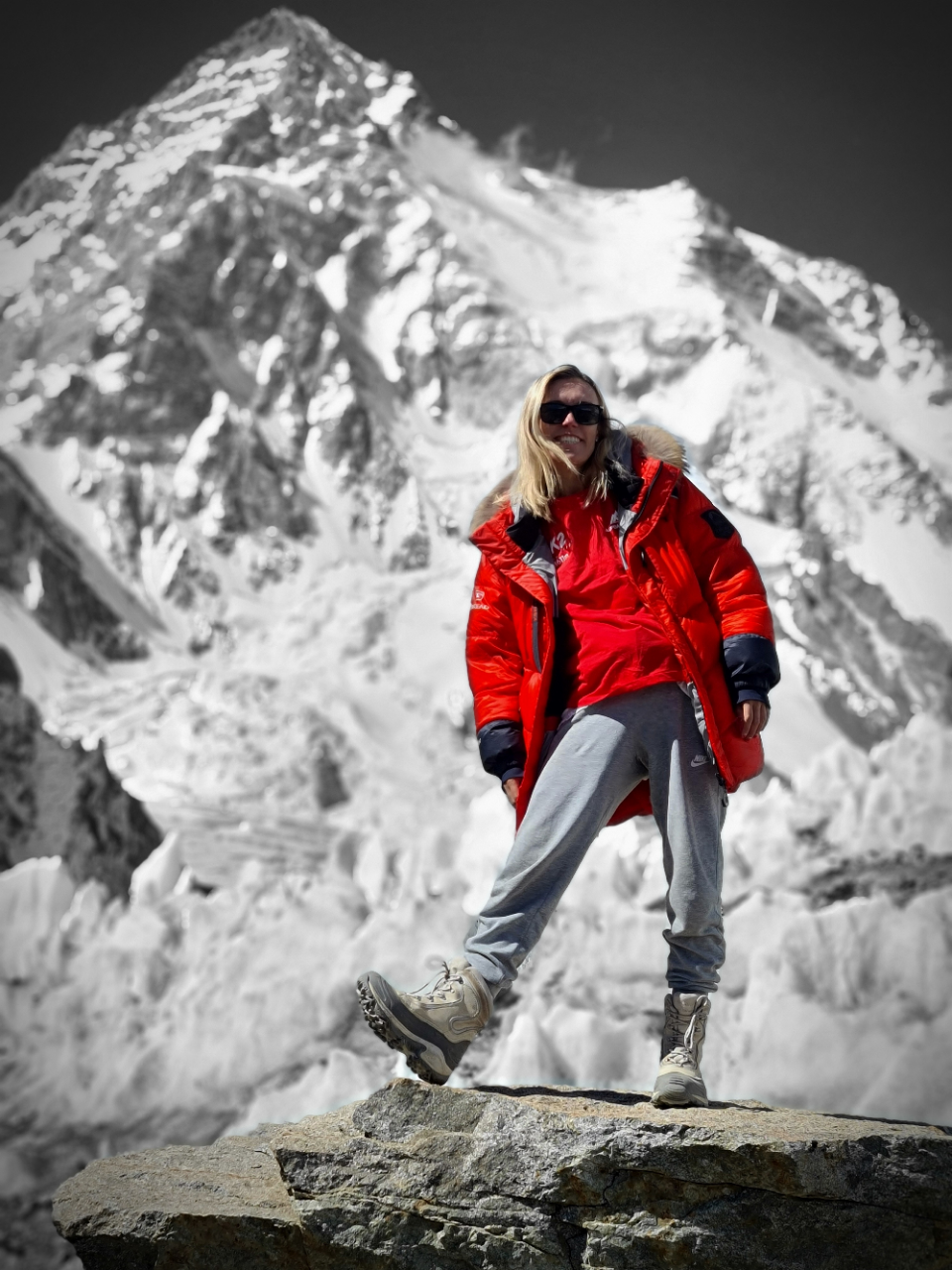 I strongly believe that the world is just a mental narrative so most of my preparation for high-pressure moments happen in my head. I am what I believe in.
Here are some thoughts and ideas that were going through my head while I was climbing the hardest mountain on the planet: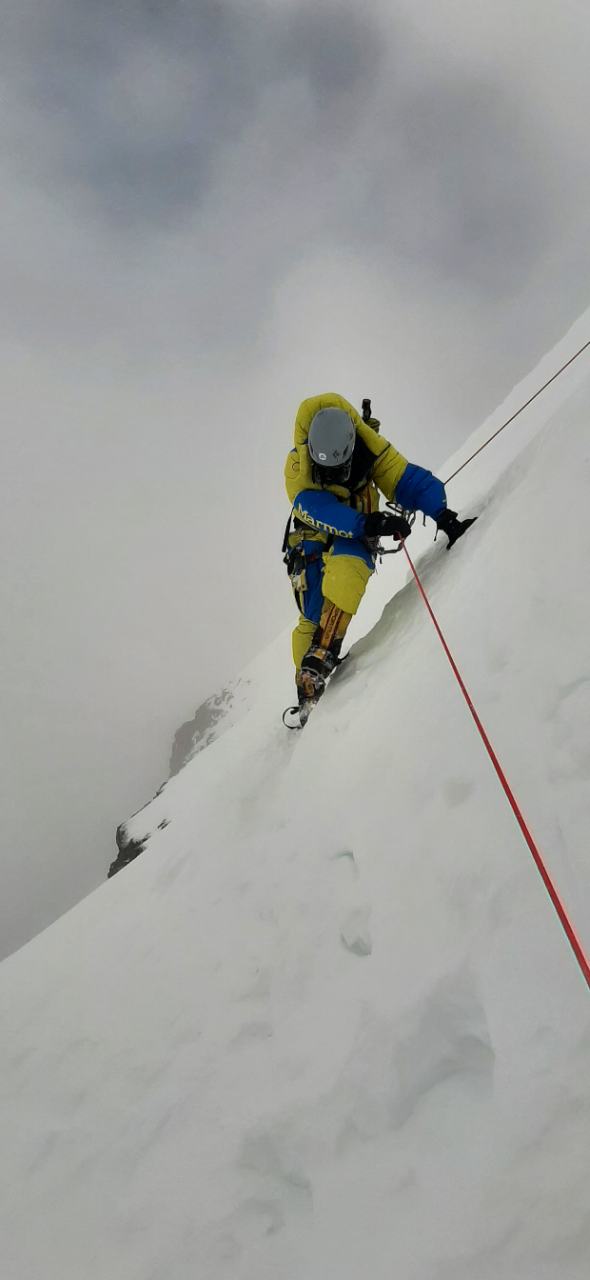 On risk management
As a mountaineer I spend a lot of time thinking about risk.  I don't believe mountaineering is not an extreme sport. It is a sport of thinking in probabilities where data is everything.
At Capital Brain we believe that it's possible to construct an investment strategy that takes a lot more into account in a way that can only be done by the tech (instead of human portfolio managers). By systematically analyzing a myriad of factors we can much better understand the big picture market dynamics and find the most optimal investment scenario. If we reduce the friction caused by the unexpected and turn this uncertainty into calculated risk, we will be much better in managing investors' money by achieving higher returns.
Same goes for climbing.
I cannot get rid of unknown risks but I can have more data and watch for patterns.
Summit success rates have been increasing every year because we have better weather forecasts and we can manage our gear better. There is more route information from other mountaineers and there is a better Search & Rescue support. Mountaineers these days are in a better physical shape and have better nutrition.
In many cases, issues are caused by other people (duh).
On accepting the unknown 
But where do the weather forecast and experience end and where does the spiritual belief start?
Ask yourself: Do I have control over the situation? Always assume both good and bad things happen and events might not go the way you wish. I can't do anything about it. I just have to accept the unknown… The weather always changes and you just never know how it turns out. In mountaineering, under extreme conditions, you have to have this mentality that you can just keep walking up into the unknown and that at some point you'll safely reach the summit. Similar to K2, when I was climbing Everest, I was starting in the end of the weather window and I knew there was just a 2hr summit window three days into the future… my only chance, a culmination of my two months expedition. By that time, all other climbers descended and I had the highest mountain on the planet to myself. As I was struggling my way up for the next 3 days, all I had left was to believe that the forecast won't change and the window stays open. In the end it worked out and I found myself standing alone on top of the world.
#Whynot 
Go after the biggest prize and see what you can get away with. Take a risk. If you don't get the desired outcome, see it as the future non-event — will it be important in 5 years? Most likely, not. Set a big, fat, juicy goal — and then never question yourself. If you bother to put an effort into training, you might as well aim for K2. Then imagine yourself standing on the summit, and work backward to understand the necessary steps for achieving your goal.
Choose Growth mindset 
I tell myself there are different routes to the summit. We were not pressured and had an opportunity to choose our summit bid date. If I know I have options it is easier to stay in a positive mindset when the probability of success is much higher. 
Focus 
Forget about the outside factors, focus on the inside and do your best. Believe that what's inside always knows better. Everything else is irrelevant, only your goal matters. I summited Everest with a broken rib: summit was the goal, broken rib — just a nuisance that had to be disregarded. On K2 I was climbing with the huge pain from the previously broken femur but the physical pain was irrelevant, I needed my summit. We all have pains. But we also have goals that are more important. Solution? Suck it up and keep climbing. Keep going Be OK with the suffering.
Act 
You don't summit a mountain by sitting in the base camp, remember?
I always tell myself that if I do just one thing a day that moves me towards my final goal, I am good. Especially now, it is so hard to keep the spirits up during scary times and mass hysteria all around. You climb the mountain step by step. Focus on the next step only. The mountain always looks large from afar and you can never see the end of the trail. As you start climbing, the trail slowly appears and things get easier. In the end there is no dream. There is a goal. It is always only about the performance.
On picking a team
Some unexpected business issues came up when I was away with no wifi, issues that I am usually the one to take care of. I saw firsthand how important it was to have partners ready to pick up slack (those two guys – you know who you are). So, work only with people who are the best for each particular task and who you know will contribute equally to the common goal – same way you assemble the climbing team. If you do everything right, you won't sit in BC looking at your team and wonder how each will behave in the emergency situation. Or, you hope that your teammate is good enough with the crampons work and won't send a rock into your head climbing above you.
On human drama
There is always drama whenever humans are involved. Some of you might have heard that K2 was finally summited this winter (for a long time it was the only 8,000der left unsummitted in winter). Nepalese sherpas claimed the summit and 3 non-Nepalese climbers perished trying. There was a son of the climbers with the movie director organizing recovery expedition while we were on the mountain. But our team discovered the body of the Chilean climber stealing their thunder. Oh boy. Unfortunately, the movie director did not know how to leave his ego off the mountain getting pissed and loud. I wish we came into nature pure and pristine. Our little human problems are so irrelevant when we are there facing eternity.
Every step is a miracle.
Keep climbing!
Every first Saturday of the month at 9 am PT/noon ET I hold a 1.5 hrs 'Reach Any Summit' Masterclass – Building and Monetizing Your Mindset. Every month there is a new topic that we cover from 4 main categories: Purpose/Mindset/Personal Brand; Goal-setting and productivity hacks; Risk taking and dealing with fear; Monetizing your mindset. You can join for just one session and see if this is for you. Email me to find out the next month's topic.
Attend the Masterclass
Popular posts on similar topic: 
About the author: 
Olga Koroleva is a founder and CEO of Capital Brain, a company that builds AI-powered products. She is also a high-altitude mountaineer who likes to climb mountains with double-digit death rates, University lecturer, and a public speaker on leadership and risk taking. Sign up to her self-leadership newsletter at https://capitalbrain.co/blog/
Photo credits: wiki, @valiksypavin